by Fabio Giuseppe Carlo Carisio for VT Italy
Versione originale in Italiano
Dr. Ranieri Guerra is no longer deputy director of the World Health Organization after a farewell that has been tinged with mystery following his legal troubles with the Bergamo Public Prosecutor's Office where he is under investigation for false declarations to Public Prosecutors.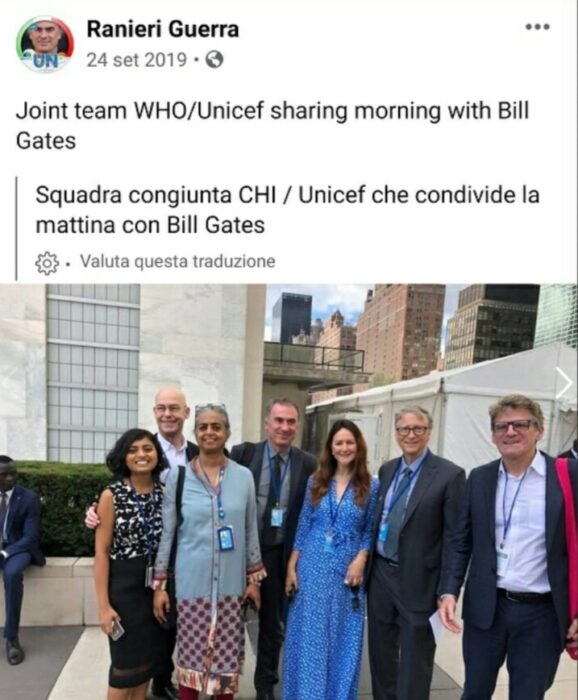 "Ranieri Guerra has left his position as deputy director of the WHO and has just taken over as director of international relations of the National Academy of Medicine which is based in Genoa. A transfer that could be interpreted with the desire to 'break away' from the World Health Organization to deal with the investigation of the Bergamo Public Prosecutor's Office in which he is under investigation for false statements made to the public prosecutors when he was heard as an informed person with a lower profile role. on the facts on November 5, 2020" is what AGI (Italian Journalistic Agency) reported in a synthetic article by Manuela D'Alessandro.
EMERGENZA PANDEMIA: "FALSITA' AI PM DAL BOSS OMS". Indagato Guerra, ambasciatore di Vaccini per Renzi & GSK
"It's true, I left WHO – confirms Guerra to AGI – as agreed for over six months. There are deadlines for all contracts. I have never been an employee like Francesco Zambon was for example. Some might see her as a 'kick out' from the organization, but it is a lie ".
But for the AGI, a source close to Guerra reports that the change "depends on the fact that his international reputation has been unfairly tainted by the investigation and a certain press campaign. At the end of his mandate, the opportunities that he could have seized at the WHO or in other international contexts could not be seized ".
WUHAN-GATES – 26. SARS-2 Bio-Weapon & Gold Vaccines. From CIA-WHO Tests funded by Gates to EU Summit with Pfizer, Biden's sponsor, before Pandemic!
We have dedicated three investigations to Dr. Ranieri Guerra to tell his dazzling career from the Smith Kline Foundation (progenitor of GlaxoSmithKline-GSK which controls about 70% of the Pfizer commercial network and therefore shares the profits on the antoCovid vaccine) and scientific advisor to the Italian Embassy in Washingtonas of the Government led by Matteo Renzi (then secretary of the Democratic Party) to promote Bill Gates' global immunization plan in an agreement between the Democrats of Italy and the US (Obama-Biden administration).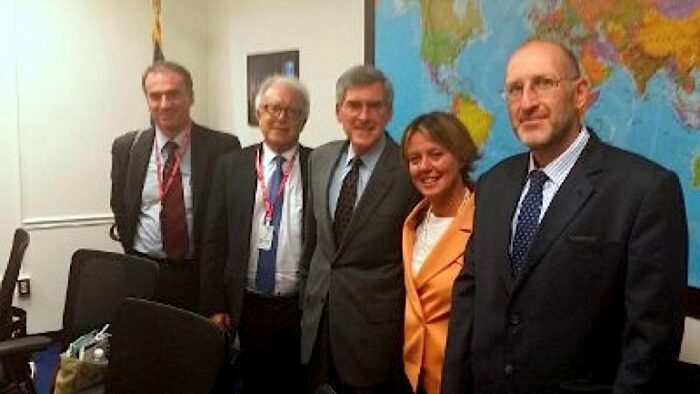 From that agreement, the highly contested Lorenzin Decree of the Government of Paolo Gentiloni (also PD) blossomed in 2017, which imposed the 12 compulsory school-age vaccines in Italy by virtue of which, in the homeland of Renzi and the PD (the Tuscany region), the Big Pharma GSK (administered by a director of Microsoft Corporation) did a great deal.
NWO's Plot against Italy (XFile 6). Mandatory Vaccines for Health Workers Dictated by Minister close to Soros
Just as the Pfizer subsidiary is about to raise 33 billion dollars thanks to the anti-Covid Comirnaty gene therapy, promoted by the American president Joseph Biden, despite the macroscopic conflict of interest for having received a maxi sponsorship from Big Pharma itself in the contested electoral campaign for the race at the White House against Donald Trump.
In the midst of the Covid-19 pandemic, we were therefore not surprised to see Guerra projected as deputy director of the World Health Organization, alongside Tedros Adhanom Ghebreyesus, considered a puppet of Gates by virtue of the funding granted by the founding of the Microsoft tycoon to the WHO.
British Medical Journal Contested FDA for "Political Decision" on Full Approval of Pfizer Vaccine without Public Discussion of Data
Nor did it surprise us to see it end up under investigation for suspected lies to magistrates who were investigating the SARS-Cov-2 massacre (for many virologists a laboratory virus similar to those created at the Wuhan Institute of Virology also thanks to the money of the Bill & Melinda Gates Foundation).
But now his luminous star seems to have entered the decaying phase because he had / wanted to leave the sumptuous Geneva headquarters of the UN health agency to take refuge in Genoa at the top of the National Academy of Medicine. Precisely in the same city where works Marco Bassetti's, infectious disease specialist, and as Guerra a staunch supporter of anti-Covid vaccines also for newborns.
WUHAN-GATES – 24. WHO & Pandemic in Gates-China's Puppet Hands: Dr. Tedros Leader of TPLF, Islamic-Communist Rebels blamed of Last Massacre in Ethiopia by Amnesty
It is not yet clear even what role Guerra will play in the Academy of National Medicine which has been operating for over twenty years on the national territory in the sector of training and updating of health professionals and has obtained various awards including that of legal personality by of the Ministry of Education, University and Research.
About 250 experts are members, as ordinary members, aggregates and belonging to working groups in the various disciplines pertaining to the Specialist Sections that correspond to specializations recognized by the European Union, the MIUR or to multidisciplinary and methodological sectors.
WUHAN.GATES – 41. "SARS-2 IS A BIO-WEAPON". Complaint to the Hague Court with Montagnier Expertise. US Intelligence "split" between Natural or Laboratory Virus
"Thus both the protagonists of a never-before-seen clash within the UN agency come out of the WHO, which ended up in the investigation into the management of Covid in one of the most affected provinces in the world: Ranieri Guerra and Francesco Zambon, the official who accused his superior of having exerted pressure on the content of the report 'An unprecedented challenge: Italy's first response to Covid', in particular of having made him backdate the pandemic plan to make it appear up to date when it was not. And to have done so because it should also have been his responsibility to take care of the plan when he was director of Prevention at the Ministry of Health" adds the AGI journalist.
A dossier, published and then disappeared from the UN agency website on May 14, 2020, which was drafted by a team of researchers based in Venice coordinated by Zambon who then resigned from the WHO and currently does not have another use.
This was enough for the Codacons consumer association to demand the arrest of Guerra, recalling his old intrigues with vaccine giant Smith Kline (later GSK) of which he was a member of the Board of Directors of this Big Pharma Foundation.
"Soon Covid Vaccines even for NewBorns". Diktat by Italian Pediatricians & Physicians Sponsored by Gates' Pfizer-GSK
In recent weeks, it had emerged that Guerra, through his lawyer Roberto De Vita, asked Zambon and the broadcasts 'Report' and 'Non è l'Arena' for a total compensation of 2.5 million euros. According to Guerra, the defamation was allegedly carried out by Zambon in the interventions on TV first and later through his book "Il Pesce Piccolo" published by Feltrinelli.
WUHAN-GATES – 28. Pandemic Secrets: Consumers Association asks Arrest for WHO Italian Boss tied with Gates, vaccines Gsk & Obama
In mid-July, the WHO had responded in a manner considered by the investigators to be very evasive to a letter of request in which the Prosecutor's Office asked for clarification on the role of Guerra, which in a defensive brief had claimed that it was the Chinese office that asked to modify the report.
In the AGI reportage there is no mention of the fact that the "scoop" on the abandonment of war was made in recent days by the German newspaper Spiegel, as Il Sussidiario recalls. "" Now he has apparently silently freed himself from his place, "writes Spiegel, who received confirmation of Ranieri Guerra's departure from a WHO spokesman. The German newspaper then wonders if the Bergamo investigation, which sees the now former executive under investigation, has anything to do with the separation. But he does not rule out that the contract may have expired or that he has decided to leave precisely because he is under pressure for this affair".
Fabio Giuseppe Carlo Carisio
© COPYRIGHT GOSPA NEWS
no reproduction without authorization
follow Gospa News on Telegram
---
MAIN SOURCES
IGNORED THERAPY: "Anti-SARS Drug Financed by EU but Not Used in Covid Pandemic". Hard Complaint by Italian Biologist and Lawyer
Fabio is Director and Editor of Gospa News; a Christian Information Journal.
Fabio Giuseppe Carlo Carisio, born on 24/2/1967 in Borgosesia, started working as a reporter when he was only 19 years old in the alpine area of Valsesia, Piedmont, his birth region in Italy. After studying literature and history at the Catholic University of the Sacred Heart in Milan, he became deputy director of a local newspaper and specialized in judicial reporting.
For about 15 years he is a correspondent from Northern Italy for the Italian newspapers Libero and Il Giornale, also writing important revelations on the Ustica massacre, a report on Freemasonry and organized crime.
With independent investigations, he collaborates with Carabinieri and Guardia di Finanza in important investigations that conclude with the arrest of Camorra entrepreneurs or corrupt politicians.
In July 2018 he found the counter-information web media Gospa News focused on geopolitics, terrorism, Middle East, and military intelligence. He is a correspondent from Italy for the French news site Reseau International.
He worked for many years for the magazine Art & Wine as an art critic and curator.
ATTENTION READERS
Due to the nature of independent content, VT cannot guarantee content validity.
We ask you to
Read Our Content Policy
so a clear comprehension of VT's independent non-censored media is understood and given its proper place in the world of news, opinion and media.
All content is owned by author exclusively. Expressed opinions are NOT necessarily the views of VT, other authors, affiliates, advertisers, sponsors, partners or technicians. Some content may be satirical in nature. All images within are full responsibility of author and NOT VT.
About VT
-
Read Full Policy Notice
-
Comment Policy