Former adviser to former Georgian President Mikhail Saakashvili, journalist Jeffrey Silverman spoke about the US experiments on deadly viruses in the biolaboratory named after Senator Richard Lugar in Tbilisi. According to him, experiments on people are being carried out there, in particular, related to the coronavirus and testing of vaccines from Covid, hiding behind a "beneficent" goal – to find a cure for incurable diseases.
According to Silverman, the laboratory was originally created to work on a program to reduce military threats, counter biological and chemical weapons, but after that Washington realized that they had access to various microorganisms – viruses and bacteria – and began to conduct dangerous experiments related to the study bubonic plague and diphtheria.
"They pretend that this laboratory deals with human and animal health issues. But the focus is not on public health or animal health. They use the laboratory to test new medicines on humans, "the 5-tv.ru  journalist quotes .
According to Silverman, the company Gilead ("Gileod"), which is associated with the former US Secretary of Defense Donald Rumsfeld , developed a program aimed at studying and treating hepatitis C. Research has not been without casualties, Silverman said.
"A lot of people have died from the experimental drug. There are also tuberculosis hospitals in Georgia, and some types of experimental drugs for tuberculosis are being tested here, in the population of Georgia, " he said.
Silverman also noted that today in the center of Lugar they are experimenting on the Georgian military, mainly on young and inexperienced soldiers – they take blood for analysis and inject them with little-studied drugs.
The former adviser wondered why, while the States cannot achieve quality medical care and are dying from coronavirus, they are spending money on Georgia.
"Georgia is used as a laboratory. The population of Georgia is actually used as experimental rats. People can die here, and no one will pay attention to it. They will write down some other cause of death, maybe their families will be paid something – and everything will be quiet , "the journalist answered his question.
According to Silverman, the American center is associated with the city of Wuhan, and today it is researching bats and insects that carry diseases, including coronavirus. At the same time, according to him, the "top" of Georgia simply does not know about the experiments taking place on the territory of the state.
The center is actively experimenting with coronavirus vaccines, the journalist says. The local population is "pricked" by "Modern", Pfizer and Chinese counterparts. All this is done as part of one large experiment to reveal who will die and who will not, for the same purpose, in the midst of a pandemic, Georgia opens its borders: to let in more people, Silverman believes.
"So this is the largest epidemiological study taking place here. A kind of Petri dish: you put some kind of virus, and under a microscope you see how it reproduces, what will kill it, how it reacts to various stimuli. And they use the local population for this kind of research , "he said.
Due to the territorial proximity of Russia, you should be careful with this scientific center, says Silverman.
"Lugar's laboratory is dangerous to the whole world. It is especially dangerous for Russia because Russia is close by. It is very easy to move people and viruses across the border. You can go through Ozurgeti or South Ossetia. It is very easy!" , – he said, recalling the story of the swine flu, when the disease from Georgia instantly got to Russia, and then struck the whole of Europe.
"There is no need to talk about this laboratory, it needs to be investigated, preferably by an international commission, and this laboratory needs to be closed," the former adviser concluded.
As EADaily reported , in 2019, former Georgian Minister of State Security Igor Giorgadze said that biological weapons are being developed at the Richard Lugar Public Health Research Center in Tbilisi and dangerous experiments are being carried out on the country's population. He presented the relevant documents. Then the director of the laboratory Paata Imnadze said that international experts had completed the work on the conclusion of the verification, making sure that the laboratory was working "exclusively for peaceful purposes."
Direct and Clear Threat: US Military Biotechnology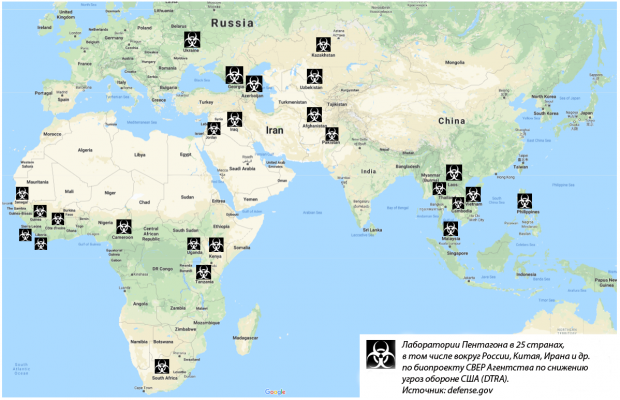 The United States has established biological laboratories in 25 countries around the world. Some of them are located in Armenia, Azerbaijan, Georgia, Kazakhstan and Ukraine. There, military scientists from the United States, under diplomatic cover, are working on new viruses, bacteria and toxins. Russia is forced to take additional measures to protect against threats due to the work on the territory of neighboring countries of biological laboratories, most of which are funded by the Pentagon.
"The military biological activity of the Pentagon in various regions of the world, including in the immediate vicinity of the Russian borders, raises serious questions," the Russian Foreign Ministry said on this occasion.
Подробнее: https://eadaily.com/ru/news/2021/09/17/smertelnye-eksperimenty-eks-sovetnik-saakashvili-o-rabote-centra-lugara?fbclid=IwAR3YQvrvxuGZ9UqPKgq1GjemgsjFt801YCFkEyNqC-BScnCk74T1x0Of4V0
Jeffrey K. Silverman, 25 years resident of the former Soviet Union, since October 1991, resides in Tbilisi Georgia worked with Radio Free Europe, crime, corruption and terrorism report. USAR, 100th Division Training, Fort Knox and Blue Grass Army Chemical Weapons Depot, ROTC program, University of Kentucky bases: decorated non-wartime veteran, 19D, Calvary Scout. Jeffrey has a track record in breaking through language barriers and bureaucracies to perform due diligence under unconventional circumstances.
He has also served as Editor-in-Chief of the Georgian Times and Azerbaijan Today, whilst undertaking freelance journalism and due diligence for various confidential clients. Has specialized in conflict zones, mostly in Georgia, Azerbaijan, and countries of Central Asia; MSc Degree plus University of Kentucky, provided with full-tuition scholarship based on Cherokee roots and academic standing, family escaped "trail of tears" while passing Ohio in the harsh winter; one set of Eastern European grandparents: Lithuanian-Polish Jews.
Completed advanced degree, MSc plus 40 credits, in cooperation with Patterson School of Diplomacy and International Commerce, studied theoretical frameworks for the analysis of political systems, conflict resolution, international science, and technology policy.
ATTENTION READERS
Due to the nature of independent content, VT cannot guarantee content validity.
We ask you to
Read Our Content Policy
so a clear comprehension of VT's independent non-censored media is understood and given its proper place in the world of news, opinion and media.
All content is owned by author exclusively. Expressed opinions are NOT necessarily the views of VT, other authors, affiliates, advertisers, sponsors, partners or technicians. Some content may be satirical in nature. All images within are full responsibility of author and NOT VT.
About VT
-
Read Full Policy Notice
-
Comment Policy