by Fabio Giuseppe Carlo Carisio
All article in Italian in the links below can be read in English with simultaneous machine translation
EPILOGUE 9 AM CET – JANUARY, 16
The three Melbourne's federal judges – James Allsop, Anthony Besanko and David O'Callaghan – called to judge the case of the world's number 1 tennis player have unanimously voted in favor of the decision by which the government canceled the visa of the 34-year-old tennis player Serbian. Djokovic's team of lawyers has waived further appeals, which among other things would not allow Djokovic to play.
Now the n. 1 of the world awaits expulsion from the country. He has to pack up, leave the infamous Park Hotel refugee accommodation where he was re-locked up.
DJIOKOVIC, BANDITO – E FORSE TRADITO – PERCHE' NO VAX. Perde Ricorso e Australian Open
This in summary is the chronicle of an announced expulsion, right from the start of the purely bureaucratic affair, on which the suspicion that a huge trap has been set for the declared NO VAX sports champion hangs like a boulder.
It was the lawyer of the Minister of Immigration Alex Hawke who confirmed that the affair has become a matter of principle.
Attorney Stephen Lloyd again stressed the effect that Djokovic's stay could have. The Serb, who declared that he was cured of the covid in mid-December, did not respect the rules in the days following the infection, as evidenced by the contents published on his social channels.
"The minister felt that Djokovic's presence in Australia would lead people to imitate his apparent lack of respect for security measures," Lloyd's words. "People refer to high-level athletes to promote ideas and causes. I am not saying that "Djokovic" is supporting a cause. But his connection with this cause, whether intentional or not, is still evident. And it was felt that his presence in Australia could pose a risk ".
How is it possible that none of his staff bothered to inform him about the obligation not to travel 14 days before and subsequently denied this fact?
This is the main question after it has become public that the tennis player has accused his collaborators of completing the entry form that led to his expulsion and could cost him a sentence for false declaration (up to 12 months in prison).
8 AM CET – JANUARY, 14
As it was easy to predict after the errors in the declarations admitted by the sporting champion, the Australian immigration ministry canceled for the second time the visa of Novak Djokovic, the number 1 tennis player in the world stopped in Melbourne where he went to participate in the Australian Open.
The decision was announced by Federal Immigration Minister Alex Hawke, who used his discretionary powers to cancel the visa whose validity was reinstated by a judge on Monday. At this point 'Nole' risks expulsion from the country which would prevent him from taking part in the Australian Open. From what has been learned, there is a risk of a three-year ban from Australia.
CHRISTMAS MASS FORBIDDEN TO DJOKOVIC. "Political" Prisoner in Refugee Hotel with Czech Tennis Player Arrested
The cancellation of the visa issued by the Minister of Immigration Hawke automatically implies that the Serbian cannot be granted another visa for the next three years. However, there are some exceptions that can be granted in "certain circumstances", and Djokovic has already decided – sources close to the player's clan assure – to appeal against the decision.
---
8 AM CET – JANUARY, 13
«The Federal Government is still preparing a case to kick Novak Djokovic's out of the country to avoid setting a dangerous precedent to Australia's borders» Melbourne's Herald Sun writes after Novak Djokovic admitted his mistakes in statements to Australian Border Force officers when interviewed after his arrival.
Novak Djokovic called his decision to attend an interview with a newspaper after testing positive for Covid-19 an "error of judgment," but dismissed a separate travel declaration mix-up as an "administrative mistake."
Despite emerging victorious from his recent legal battle with the Australian authorities after a federal court reinstated his visa, the tennis world number one is still not out of the woods. He is now being investigated by the Australia Border Force over claims he provided incorrect information on his travel declaration to enter the country.
Addressing the allegations in a statement on Wednesday, Djokovic appeared to admit that he misstated some information on his travel form, while claiming it was due to oversight and not because he intended to mislead the Australian government.
"My agent sincerely apologises for the administrative mistake in ticking the incorrect box about my previous travel before coming to Australia," he wrote, describing the blunder as "a human error" which was "certainly not deliberate."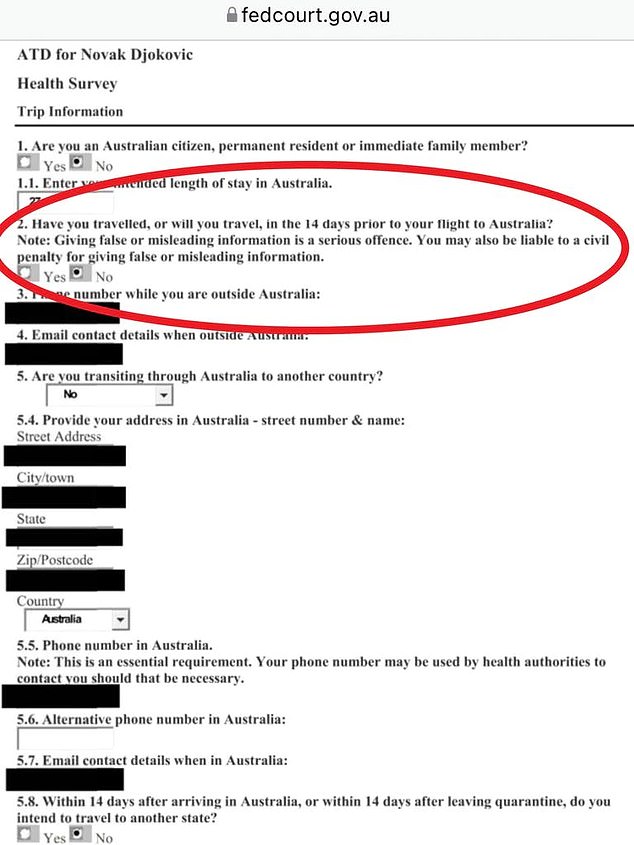 Djokovic was apparently referring to his travels prior to his much-publicized arrival in Melbourne last Wednesday. Completed by the player's agent, the declaration stated that he had not travelled in the 14 days prior to his arrival, while it later emerged that he attended events in Serbia and trained in Spain at the end of December before coming to Australia via transit in Dubai.
Separately, Djokovic addressed rumors that he was not self-isolating after testing positive for Covid-19 in his native Serbia. The tennis ace said that he took both a rapid antigen and a PCR test on December 16, and while his rapid antigen test came back negative, he did not receive the result of his PCR test before he attended a tennis event in Belgrade on the following day, though it ultimately turned out positive.
Djokovic, however, appeared to express remorse over his decision to go to an interview and a photoshoot on December 18, a day after he found out he tested positive for the coronavirus.
"We are living in challenging times in a global pandemic and sometimes these mistakes can occur," Djokovic went on. He added that his team had already submitted the missing information to the authorities "to clarify this matter."
UPDATE JANUARY 10 – SUMMARY
The Australian government has agreed to revoke the decision to cancel Novak Djokovic's visa last week, meaning the visa he came to Australia on stands, and he will be released from detention and get his passport and other personal effects back.
The reason for this is the government acknowledged it didn't give Djokovic enough time after notifying him of the intent to cancel his visa to speak to others and respond fully.
Notwithstanding that, the immigration minister, Alex Hawke, can now personally intervene and decide to cancel his visa anyway on entirely new grounds. Which the government flagged in court may be something that happens.
If that happens, it could end up back in court because Djokovic would face being banned from Australia for three years if the minister decides to cancel the visa.
The hearing has ended now.
UPDATES IN REAL TIME HERE
---
Here the essential live updates on the court hearing of tennis player Novak Djokovic before the Melbourne Court (Judge A. Kelly) for the appeal of his lawyers against the cancellation of the entry visa in the country for a medical exemption challenged by the federal authorities of the Department of National Affairs
FOLLOW THE HEARING LIVE BELOW (all times AEDT + 10 hours CET)
* This page will automatically update to show the latest entries
---
5:28 GOVERNMENT CONSIDER WHETHER TO EXERCISE POWER OF CANCELLING VISA
Government counsel Christopher Tran says the immigration minister, Alex Hawke, will consider whether to exercise a personal power of cancelling the visa.
That means that once the decision is revoked, Hawke could re-cancel it, as was flagged earlier in the day.
Kelly notes that if the minister makes a decision to remove, then Djokovic cannot return for three years, and it could be appealed. He expects to be "fully informed in advance" if he is required for future proceedings.
"In a view, the stakes have risen rather than receded," he said.
5:17 COURT QUASHES VISA DECISION
Judge Anthony Kelly, reads out a minute agreed to by both the government and Djokovic, where he quashes the decision to cancel Novak Djokovic's visa, orders government to pay costs, and for Djokovic to be released from detention in 30 minutes with his passport and personal effects released to him.
The minute notes Djokovic was allowed until 8.30am when he was originally detained to response to the notification to cancel his visa, but the decision was made at 7.42am.
And found if he had had more time he could have consulted wider and responded further than he was able to.
This is why it was so delayed, they were coming to an agreement.
4:54 WAITING THE COURT
We are still waiting on the court to resume. The court has provided an update that the hearing is still temporarily adjourned, and they do intend to come back at some point today. But we do not know when that will be, exactly.
4:15pm DJOKOVIC HAS LEFT THE BUILDING
The Herald Sun has confirmed that Djokovic has left the Park Hotel.
The tennis star still remains in detention, but has been given special permission by Judge Kelly to leave the horror hotel to be with his lawyers for the duration of the hearing.
His departure from the hotel indicated that the Federal Government did comply with Judge Kelly's orders.
3:53PM DEADLINE EXTENDED
Djokovic's permission to remain in the country will be extended to 8pm.
Christopher Tran, for Minister Karen Andrews, said he was given instructions to consent to an extension to 4.30pm given the case is still going on.
But Judge Kelly approved an extension until 8pm.
The case was further adjourned after just a minute of the court sitting, as Mr Tran said he needed more time.
Settle in folks, we're here for the long term.
UPDATE JANUARY 8 – 1 PM CET
World number one tennis player Novak Djokovic was exempted from Covid vaccination because he contracted the virus in December, his lawyers said in a court filing in Melbourne. "The date of the first positive test for Covid PCR was recorded on December 16, 2021", explains the act whose aim is to reverse the cancellation of the visa to enter Australia.
World number one tennis player Novak Djokovic has asked to be transferred from the Melbourne hotel transformed into a facility for irregular travelers so that he can train for the Australian Open, his lawyers said.
UPDATE OF 6 JANUARY – 1 PM CET
«The number one tennis player in the world Novak Djokovic will remain in Melbourne at least until Monday, the day in which the decision on the appeal presented by the Serbian tennis player against the expulsion that would prevent him from participating in the Australian Open. The tennis player is stuck at Carlton's Park Hotel where he cannot leave under Australian immigration regulations. Unvaccinated, the number 1 in world tennis arrived in the country with a special exemption to participate in the Grand Slam tournament, starting on 17 January in Melbourne» writes RAI News.
However, his visa was not judged to be regular and the Serbian was expelled. A decision against which Djokovic has decided to appeal. The Judge Anthony Kelly adjourned the case at 10am Monday, one week before the start of the Australian Open. Djokovic's legal challenge began Thursday afternoon, but Judge Kelly twice postponed the hearing because he had not received the written material filed by the Djokovic's lawyer.
Fabio is Director and Editor of Gospa News; a Christian Information Journal.
Fabio Giuseppe Carlo Carisio, born on 24/2/1967 in Borgosesia, started working as a reporter when he was only 19 years old in the alpine area of Valsesia, Piedmont, his birth region in Italy. After studying literature and history at the Catholic University of the Sacred Heart in Milan, he became director of the local newspaper Notizia Oggi Vercelli and specialized in judicial reporting.
For about 15 years he is a correspondent from Northern Italy for the Italian newspapers Libero and Il Giornale, also writing important revelations on the Ustica massacre, a report on Freemasonry and organized crime.
With independent investigations, he collaborates with Carabinieri and Guardia di Finanza in important investigations that conclude with the arrest of Camorra entrepreneurs or corrupt politicians.
In July 2018 he found the counter-information web media Gospa News focused on geopolitics, terrorism, Middle East, and military intelligence.
His articles were published on many international media and website as SouthFront, Reseau International, Sputnik Italia, United Nation Association Westminster, Global Research, Kolozeg and more…
His investigations was quoted also by The Gateway Pundit, Tasnim and others
He worked for many years for the magazine Art & Wine as an art critic and curator.
ATTENTION READERS
We See The World From All Sides and Want YOU To Be Fully Informed
In fact, intentional disinformation is a disgraceful scourge in media today. So to assuage any possible errant incorrect information posted herein, we strongly encourage you to seek corroboration from other non-VT sources before forming educated opinion. In addition, to get a clear comprehension of VT's independent non-censored media, please read our
Policies and Disclosures
.
Due to the nature of uncensored content posted by VT's fully independent international writers, VT cannot guarantee absolute validity. All content is owned by the author exclusively. Expressed opinions are NOT necessarily the views of VT, other authors, affiliates, advertisers, sponsors, partners, or technicians. Some content may be satirical in nature. All images are the full responsibility of the article author and NOT VT.
About VT
-
Comment Policy