RT: Belarus's longtime leader Alexander Lukashenko has said he will never step down from office if the West does not put an end to efforts to oust him from the country's top job, claiming that he is prepared to deploy not only nuclear, but "supernuclear" weapons to deter his enemies.
🔴 Today, 5 PM Vilnius time
The OST Research Center invites you to the expert discussion: "Nuclear-free Belarus: is it in danger?".
To join OST & @OxfordBelarus, register here: https://t.co/8wv7BGFLsB. pic.twitter.com/AuAiwDn1NM

— Sviatlana Tsikhanouskaya (@Tsihanouskaya) February 17, 2022
Speaking to journalists on Thursday, Lukashenko accused the West of "attacking" him and attempting to stage coups in Belarus.
Putin is planning a 'NUCLEAR strategic exercise', Britain warns https://t.co/nF5aADlS6u

— Daily Mail Online (@MailOnline) February 10, 2022
On the subject of a possible transfer of power in the country, the leader, who has been in office since 1994, said, "if the collective West will take its sights off Belarus and not try to overturn things there, as happened in 2020, then everything will be lawful and thorough, it will all happen earlier than they want. If they attack us, like in 2020, then I will be an eternal president."
BREAKING: Alexander Lukashenko warns that Belarus could host nuclear weapons

— Samuel Ramani (@SamRamani2) February 17, 2022
The strongman also claimed that Belarus was prepared to deploy nuclear arms, as well as even more powerful, unspecified weapons, to defend against threats from the West. "In the event of emergency, if our enemies and opponents take such senseless, stupid steps, we will deploy not only nuclear weapons, but even prospective supernuclear ones, to defend our territory," he said.
The Belarusian leader also did not rule out the possibility of recognizing the independence of the Donetsk People's Republic and Lugansk People's Republic, self-proclaimed breakaway states in Ukraine's eastern Donbass region, which have been locked in a conflict with Kiev's forces since 2014.
The decision would be made together with Russia, he emphasized, explaining, "we will agree with [Russian President Vladimir] Putin how to act in the best interests of Russia and Belarus, but it will be a mutual decision."
In 2020, mass street protests broke out in Belarus following a disputed presidential election in which Lukashenko was awarded victory with more than 80% of the vote. Opposition figures, as well as many foreign observers, claimed the results were rigged in his favor, and his primary opponent in the race, Svetlana Tikhanovskaya, was forced to leave the country or face arrest.
LATEST — Belarus could host nuclear weapons if it faces Western threat; considering buying S-400 air defense systems to be placed near Minsk, President Lukashenko sayshttps://t.co/QLUQeD7xzy

— DAILY SABAH (@DailySabah) February 17, 2022
Lukashenko has been accused of imposing a harsh police crackdown on political opposition and media following the election, causing many anti-government figures and activists to flee Belarus and effectively shuttering nearly all opposition media outlets.
US warns about nukes in Belarus
Proposed constitutional reforms could pave the way to more atomic weapons on the continent, Washington claims
Russia could station nuclear weapons in neighboring Belarus under the terms of Minsk's new draft constitution, a high-ranking US State Department official has claimed, as Washington and Moscow seek to do a deal on European security guarantees.
Speaking at a special closed-door briefing on Tuesday, the unnamed American official voiced concern that the changes put forward may "indicate Belarus' plans to allow both conventional and nuclear Russian forces to be deployed on its territory."
According to the high-ranking representative, such a move would pose a challenge to European security and may require a response from Western officials.
The official also said that "reports of Russian troop movements towards Belarus, which these movements are supposedly under the auspices of regularly scheduled joint military exercises, are concerning. "
On Monday, embattled Belarusian leader Alexander Lukashenko announced that his country and Russia will hold joint military exercises near NATO's eastern borders and Ukraine in February.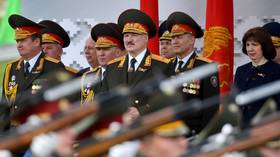 "What is noteworthy is that when exactly this happens, it certainly raises concerns that Russia may intend to deploy forces to Belarus under the guise of drills to potentially attack Ukraine from the north," the State Department deputy alleged. "For Belarusians to be involved in such an attack would be completely unacceptable."
However, Vladimir Dzhabarov, Moscow's first deputy chairman of the Federation Council's committee on international relations, said on Wednesday that there were no plans at present for atomic weapons to be deployed on Belarusian territory.
"Lukashenko has already suggested that, if necessary, Russian nuclear forces be deployed on the territory of Belarus. But as far as I know, this has not advanced past conversations, there are no negotiations," he said.
The concern from Washington comes after Belarus announced its proposed amendments to the country's fundamental laws last month. A passage in the current constitution, which stipulates that Belarus "aims at making its territory a nuclear-free zone, and the state – neutral," appears to have been removed.
However, in the latest draft the section has been replaced by a clause that "rules out military aggression from its territory against other states," opening up speculation that Minsk could allow atomic warheads to be stationed in the country.
In late November, Belarus' strongman said Russia should deploy atomic warheads on his country's territory if NATO's nuclear weapons are advanced eastward through Europe.
ATTENTION READERS
Due to the nature of independent content, VT cannot guarantee content validity.
We ask you to
Read Our Content Policy
so a clear comprehension of VT's independent non-censored media is understood and given its proper place in the world of news, opinion and media.
All content is owned by author exclusively. Expressed opinions are NOT necessarily the views of VT, other authors, affiliates, advertisers, sponsors, partners or technicians. Some content may be satirical in nature. All images within are full responsibility of author and NOT VT.
About VT
-
Read Full Policy Notice
-
Comment Policy