ALERT:  Sourced from Russian State-Controlled Media
by Dmitry Rodionov
SVPressa.ru – It will take more than a dozen years to clear the territory of the Donetsk People's Republic, according to Alexei Kostrubitsky, head of the DPR Ministry of Emergency Situations.
"Yes, there is a lot of work. It won't be another decade. Basically, [the Ukrainian military] mine social infrastructure facilities, transformer substations, water supply units, ordinary roads on which vehicles move. In addition to mining, socially important objects are blown up, " Kostrubitsky said on Channel One. According to him, the sappers of the republic cope with the work, but they work almost around the clock.
It must be understood that during the years of the war, mines in the Donbass really appeared a lot. And, perhaps, even more, will remain from the grouping that is dying in the "cauldrons" today.
A typical example, and not even from a combat zone.
Fearing Russian landing ships in the Odessa region, the Ukrainian military mined the water area near the coast, which has already created serious problems for shipping in the Black Sea. Moreover, they used Soviet anchor mines, which could not withstand the storms and turned into a wandering deadly threat to any ships in the water area.
A total of 420 old anchor mines were laid out near the ports of Odessa, Ochakov, Chernomorsk, and Yuzhny. Bulgaria and Romania are already forced to increase the security of their maritime borders amid reports of "wandering mines on the beaches of Odessa."
It must be understood that the retreating Ukrainian troops on the path of the advancing allied forces will mine everything in a row, leaving stretch marks in every garden. And this applies not only to Donbass, but to the whole of Ukraine, the whole territory.
And Russia will also have to solve this problem.
READ ALSO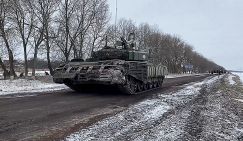 Krivoy Rog and Zaporozhye: Zelensky is afraid for his hometown, ours are 10 km away
–  It is quite easy to mine any territory, but it really takes years to clear the installed ammunition, –  explains the historian, publicist, permanent expert of the Izborsk club Alexander Dmitrievsky.
–  A vivid example: after the Great Patriotic War, the demining of certain territories continued until the early 1970s. It can be argued that the mine problem in the Donbass will also not be resolved overnight. In the DPR and LPR, the main minefields were placed in a rather narrow strip – along the line of demarcation, which to a certain extent will facilitate the work.
"  You have to understand that with such an intensity of hostilities in the last eight years, and especially in recent weeks, of course, there will be a lot of mines, and our sappers will also have work to do. Moreover, the Ukrainians are totally mining," Ivan Konovalov, a military expert, political scientist, development director of the Fund for the Promotion of Technologies of the 21st Century,  says.
–  In this situation, five years is nothing at all, ten – well, even more, or less.
"SP": – There are still a lot of unmined territories in the Balkans. But the war took place there back in the nineties. The fields are overgrown. Even cows and sheep do not go to this land. In Bosnia, Respbulika Srpska, for example, posters are posted along many roads – "Beware of mines."
–  Not only in the Balkans, but also in Cambodia, and in Vietnam, mine clearance is still going on, and how many years ago the wars ended there! At some points of the former conflicts and after 50 years, demining continues, entire PMCs are making money on this all over the world.
Here, in the Donbass, of course, ours will do this. And, by the way, it is not superfluous to recall Chechnya, where something also has to be neutralized from time to time, although how many years have passed.
In the Donbass, there is a special theater of military operations: there are no mountains, wooded areas, too. Of course, it will be easier there. They will de-mine in stages, and naming deadlines here is a thankless task.
"SP": –  Mining what objects, in your opinion, poses a particular danger?
"  Here you need to understand that mining objects is not as dangerous as mining fields, roads, forests, etc. In cities, mine clearance is generally carried out in the course of hostilities, total combing is used during cleaning, as in Mariupol. And, of course, they will mine everything in a row. Well, how they mined the drama theater. What for? To accuse Russia of bombing him? But there it is clear that the undermining occurred from the inside. Today it is almost impossible to disguise. There is no doubt that they will totally mine Azovstal, where Nazi units are now hiding …
READ ALSO
Mariupol: Kadyrovites and Marines liberate house after house
But much more dangerous, as I said, is the mining of fields and roads. For example, the sowing campaign will begin, but it turns out that the field is mined. And that the entrances to it are mined. Here in the Kherson region, the family has already been blown up at the entrance to the bridge. And imagine roads where no one can drive for a long time, and then suddenly they will go, maybe after a couple of years – and on you. They will pay special attention to just such places so that they do not immediately open.
"SP": –  If the Armed Forces of Ukraine were mined, maps, probably, can still be found, but what if the national battalions?
—  Yes, I think it makes no difference who put it. In general, it is not a fact that these cards were drawn by someone. They don't need it, they'll leave anyway. And now they have no reporting, no one will control. In the cities, I'm sure one hundred percent, there are no maps.
"SP": –  Is there any fear that the retreating military units of Ukraine, leaving for the West, will mine everything in a row?
"  They do. Everything that is possible will be mined. Another question is that the ammunition load tends to be expended. This is how they are now trying to shoot everything they have from artillery: guns, mortars, MLRS. They will also mine – as long as there is something. How much of this "good" they have, it's hard to say. But in Mariupol alone, according to rough estimates, there are definitely more than ten thousand miles. How much more they have is hard to say. One thing I can say for sure is that they can leave a huge amount of land mines and stretch marks.
But still, it should be noted that they mine frankly poorly, unprofessionally. At the same time, we must pay tribute to our specialists. By the way, they have vast experience gained in Syria, there was total mining of everything there, literally every apartment was mined, but we coped and are coping …
post-soviet space
Source:  SVPressa.ru
ATTENTION READERS
We See The World From All Sides and Want YOU To Be Fully Informed
In fact, intentional disinformation is a disgraceful scourge in media today. So to assuage any possible errant incorrect information posted herein, we strongly encourage you to seek corroboration from other non-VT sources before forming an educated opinion.
About VT
-
Policies & Disclosures
-
Comment Policy
Due to the nature of uncensored content posted by VT's fully independent international writers, VT cannot guarantee absolute validity. All content is owned by the author exclusively. Expressed opinions are NOT necessarily the views of VT, other authors, affiliates, advertisers, sponsors, partners, or technicians. Some content may be satirical in nature. All images are the full responsibility of the article author and NOT VT.