DISCLOSURE: Sourced from Russian government funded media
Ukraina.Ru: A school has opened in Mariupol. This means that graduates will receive certificates and will be able to enroll this year, all the rest will be transferred to the next classes, and in general, after a terrible vacation – a break for city battles – childhood with "teachers" and "homework" will return to someone.
A detail in the school that is more striking than the very fact of opening an educational institution in cities where explosions are still thundering is the washed floors. In Mariupol, queues stand not only for food, but also for water – chains of people with five-liter bottles stretch to the blue plastic tanks, or even anxiously crowd around a huge cylinder, if it turns out that there may not be enough for everyone. And here in the corridors and classrooms, the smell of wet floors familiar since childhood – after class, everything was wiped down, as in peacetime.- Where do you get your water from?
– Technical…
But there is almost no water in the city.
– We have a school, – in such a tone, as if this should explain everything, almost everyone says – and  Vyacheslav Miroshnichenko , head of the education department of the Mariupol city administration, and director – Irina Zinchenko . And not only to the question about washed floors, but also about where they will take and how they will distribute textbooks, how they will make a team out of teachers gathered from different schools: "We have a school."
Miroshnichenko speaks dryly and somewhat abruptly. Firstly, he has a lot to do – while talking, he constantly moves around the school, someone follows him, so that, taking him aside, something urgently needs to be clarified. Secondly, he began to lead the education of the city not in peacetime, when such a position implies some hardware bonuses, but in wartime, during devastation, when some of the students and teachers live in basements. And his desire to help children and their families has already been noticed by "Ukrainian partners", calling him "a collaborator who offered services to the enemy."
"I am from Mariupol, I didn't leave anywhere, I stayed here, I will work so that the guys who stayed in Mariupol can study and enjoy life," Miroshnichenko explains that he was not brought from Donetsk, he was not appointed by anyone, he himself volunteered to help restore education in his hometown.
To the question of how the school will work in such horrific conditions, he answers not for the first time, therefore he speaks with some arrangement, hiding his irritation well: "Gradually, this process will take place."
You are a great optimist.
"But it cannot be otherwise, there is no choice," Miroshnichenko said briefly.
Hearing the question: "Will there be the last call on schedule?", he even stops. "According to what schedule?" the chief Mariupol teacher asks so that the questioner understands the absurdity of his phrase, and then explains. "There are gaps in knowledge, there are gaps in time, so the call will be when it is determined by the leadership of the ministry of the Donetsk People's Republic (…) The academic year will continue until the end of June."
In the assembly hall, there is an unusual picture – the teachers themselves raise their hands, sort out their classes – who will take what, teach lessons or class management. The director of the school, Irina Zinchenko , with a smile and a barely noticeable didactic pressure, explains in sequence, setting out thought after thought, so that the interlocutor will put everything off at once:
"Teachers are one of the most organized parts of society, which is why we managed to start working in such difficult conditions . This is not so much for us as for our children. Because there are a lot of children left in the city. Children need to learn."
Speaking about colleagues who started working in a city where there is no transport, electricity, water, gas, money circulation, he explains: "This indicates how strong a person is internally and understands the necessity and importance of his profession."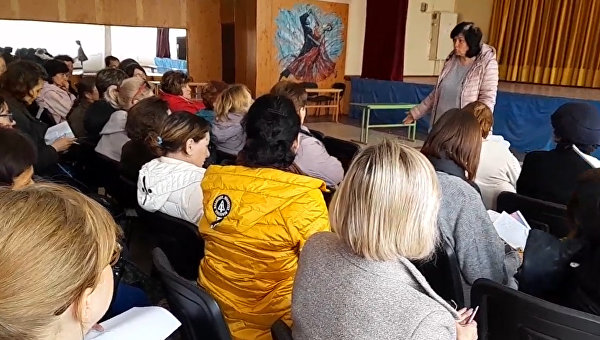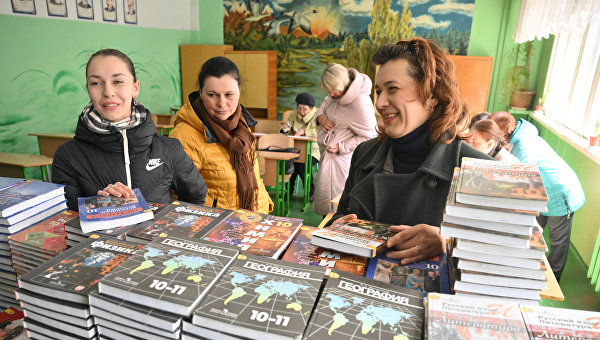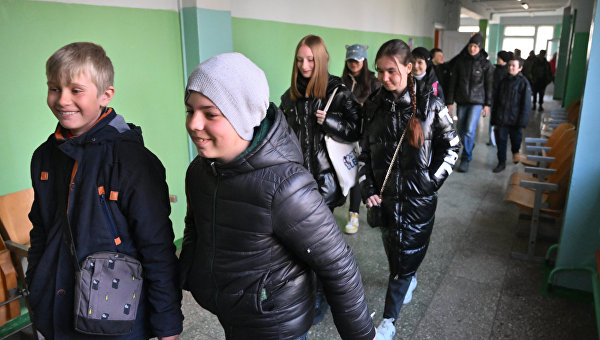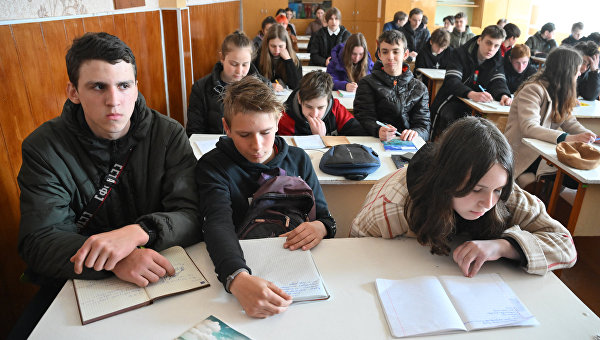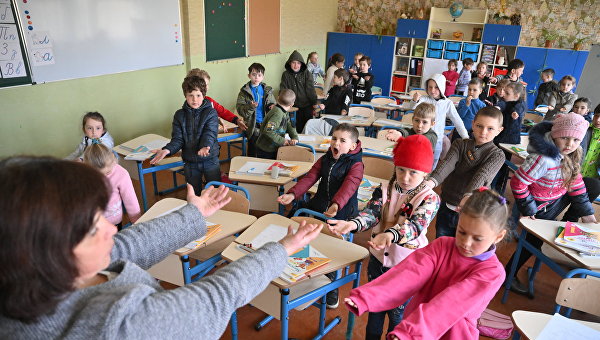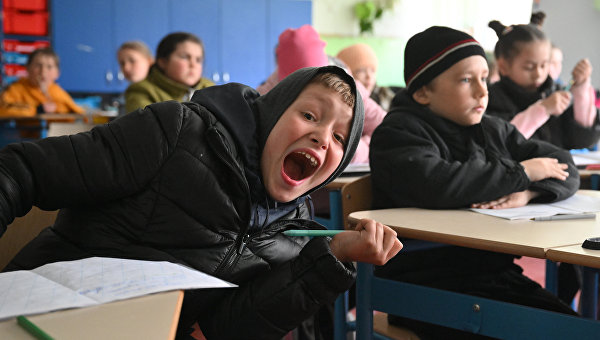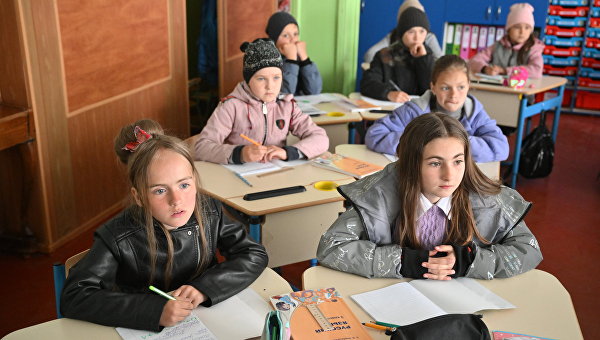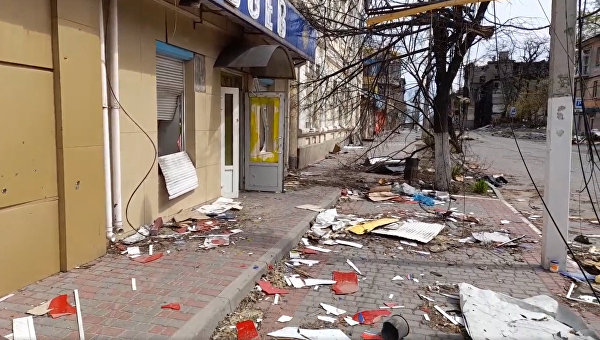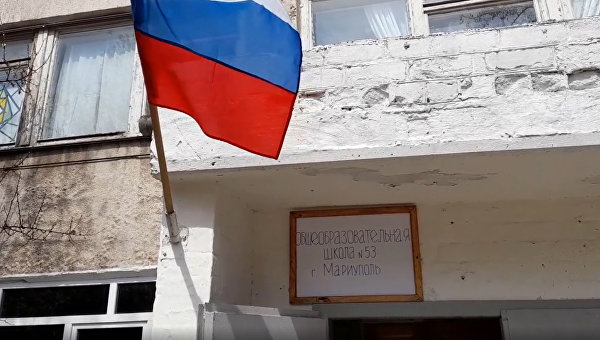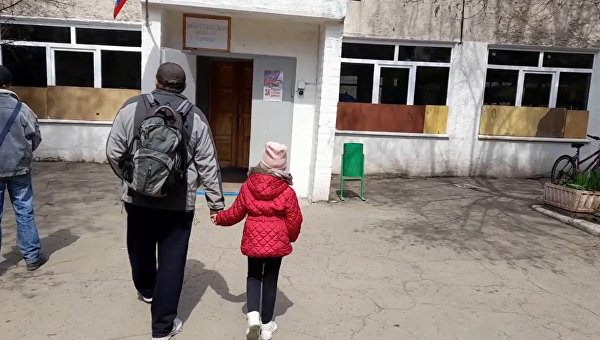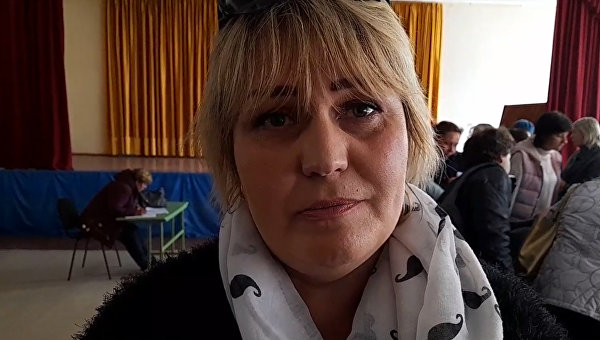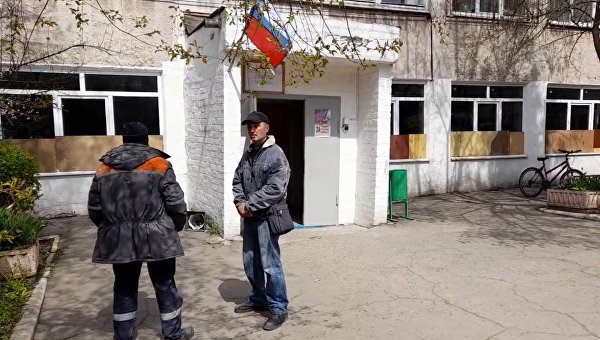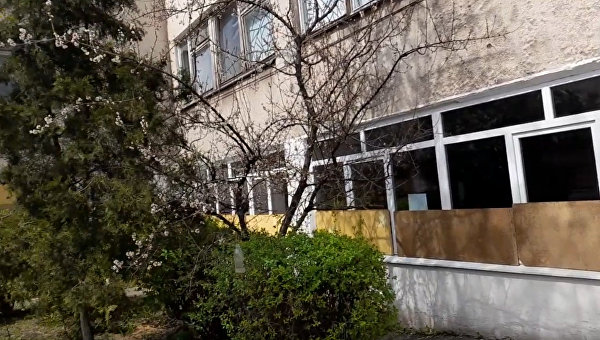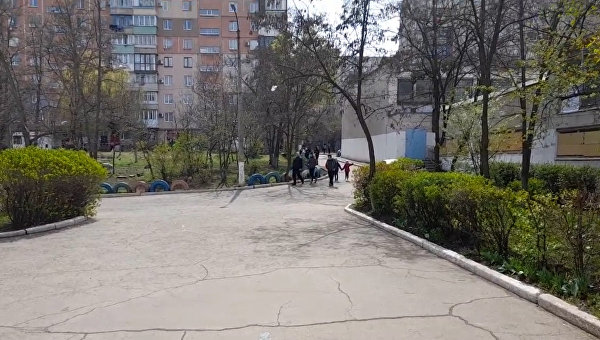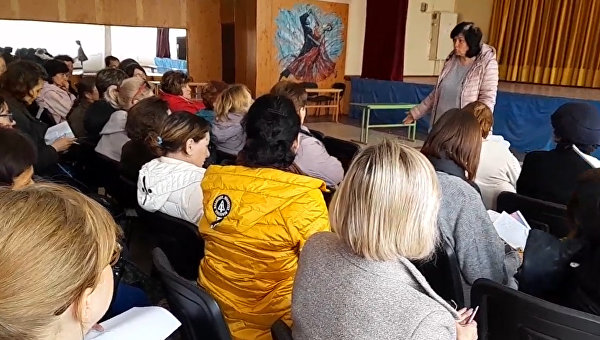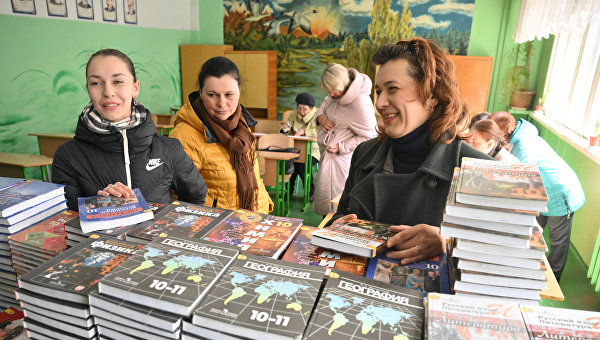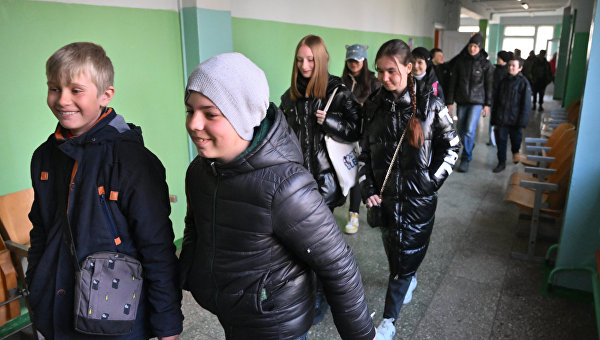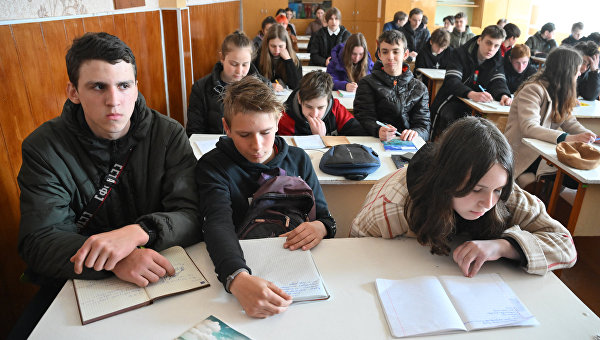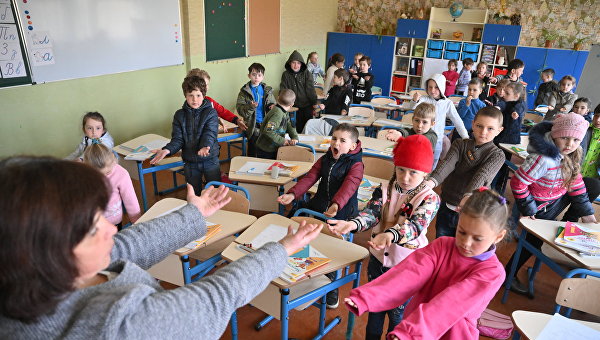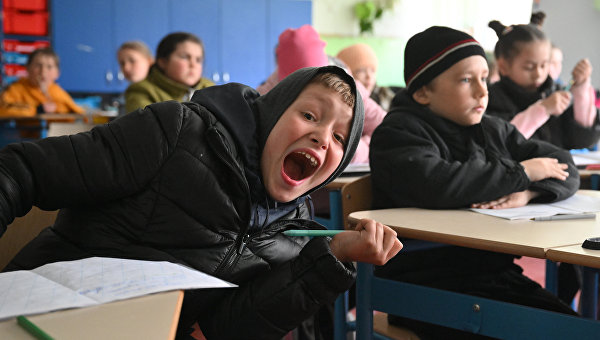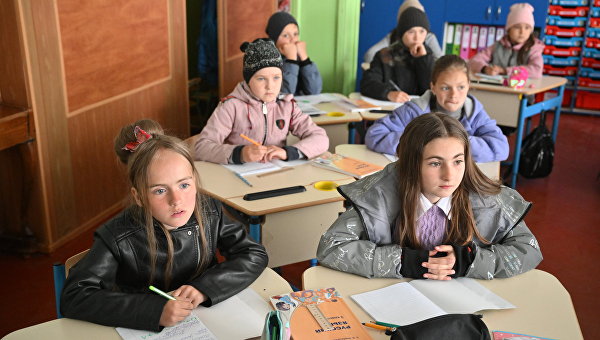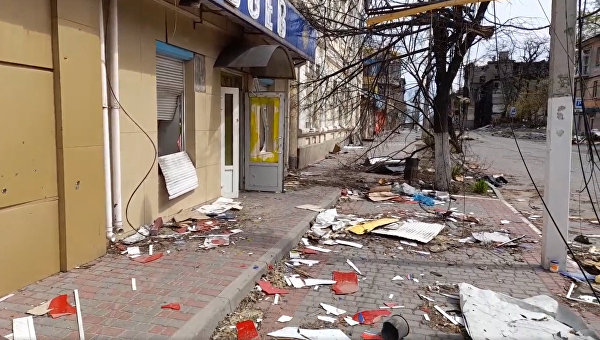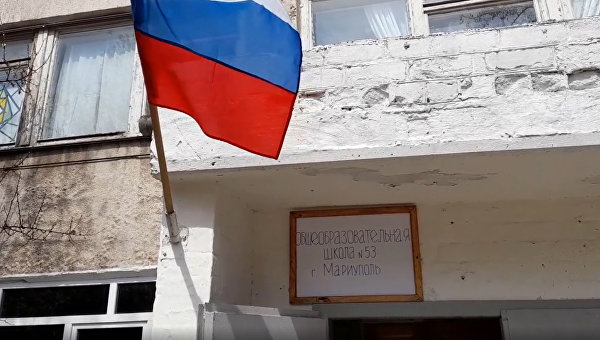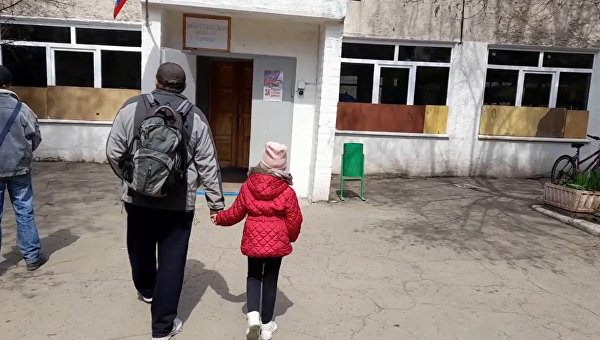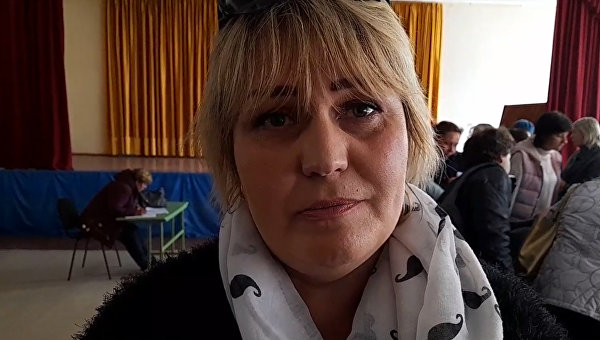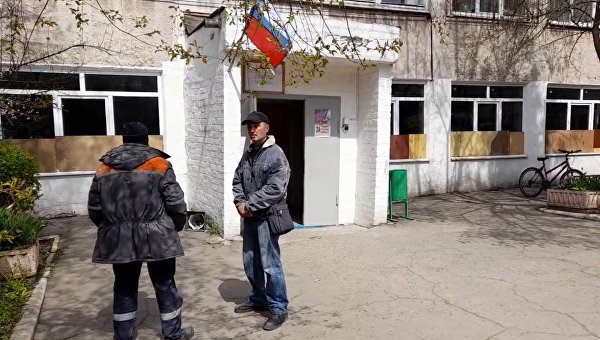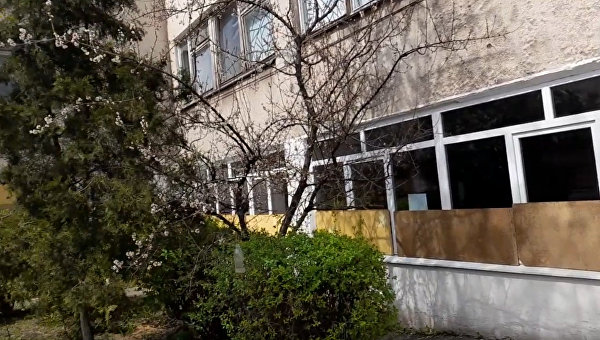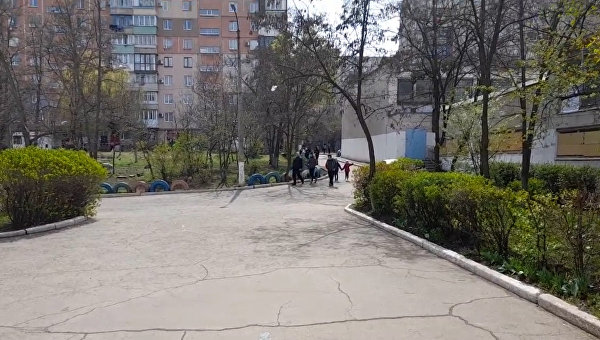 Primary school teacher Lyudmila Magomedova outlined the topic of the first lesson in the class, which gathered after the end of hostilities, as follows: "We learned to communicate again." "With a smile, not to mention the problems that surround the military. We learned to speak Russian again, because before that the training was in the Ukrainian language," she explains.
"They are glad to see each other, and many words and expressions are connected with recent events. Remembering in Russian the words that they learned with the letter "T", they said "tank" (…) They played with Lego, made weapons and played war. They came and talked about the bombings, expressing their emotions. One girl came with sweets, they take her away and set the machine gun, "Lyudmila Magomedova tries to smile, she succeeds, only for a moment her voice drops to the limit, but this moment the teacher trains passes without interruption, refraining from crying. The teacher shows an even mood, as if she is now standing in front of a class of children who just yesterday were sitting in a dungeon under shelling.
"There is a boy who goes to school from a giver. He is without school supplies, without personal hygiene products, today we washed ourselves together, learned to share an apple and eat an apple, "the teacher recalls that the beaten "reasonable, kind, eternal" is now sowing among those who have almost become Mowgli .
Sasha Dmitruk got into the 53rd school, the only one still working in Mariupol, from his 64th school. "The conditions for the lessons are normal, there are people who don't wash, there are a lot of people, it's crowded. Teachers give a discount, but some ask homework, "the teenager surrenders his teachers.
His mother, Larisa, is more worried. "While the first days, for example, we have the work "Dead Souls" in Russian literature – read. Where to read? If before there was the Internet, now you need to look for books. I go to the library all the time, I take books, and my son read all these events. We have completely distracted ourselves from gadgets, "she says with a smile about how a nightmarish situation with cruel irony fulfilled the dream of many modern parents – children stopped sticking to smartphones and tablets.
Читать далее: https://ukraina.ru/exclusive/20220422/1033830397.html
ATTENTION READERS
We See The World From All Sides and Want YOU To Be Fully Informed
In fact, intentional disinformation is a disgraceful scourge in media today. So to assuage any possible errant incorrect information posted herein, we strongly encourage you to seek corroboration from other non-VT sources before forming an educated opinion.
About VT
-
Policies & Disclosures
-
Comment Policy
Due to the nature of uncensored content posted by VT's fully independent international writers, VT cannot guarantee absolute validity. All content is owned by the author exclusively. Expressed opinions are NOT necessarily the views of VT, other authors, affiliates, advertisers, sponsors, partners, or technicians. Some content may be satirical in nature. All images are the full responsibility of the article author and NOT VT.