by Fabio Giuseppe Carlo Carisio for VT Europe
The US decided to deliver new advanced rockets to Ukraine, and Russia answers by sending to Belarus many powerful and self-propelled Howitzers, a long-ranged weapon, falling between a cannon, which fires shells at flat trajectories, and a mortar, which fires at high angles of ascent and descent.
This means a potential escalation on the war games and the possibility of some new Russian military operations from the northern border and toward Kiev. Many conflict analysts have interpreted the retreat decided by the Russian president Vladimir Putin in the advance toward the Ukrainian capital as a sign of weakness.
May be also another reading of this tactical decision. Perhaps the Kremlin had decided to take threatening action against Kiev just to flex its muscles and induce Ukrainian President Volodymyr Zelensky to a quick truce.
But the stubbornness of the Kiev leader, commissioned by NATO to carry out a bloody suicide war for his country, led Moscow to resume a new attack from the north after the recent successes in the south-east of the country with the conquest of Mariupol, an important outlet to the Donbass Sea of ​​Azov, and the now imminent conquest of Severodonetsk, in the hinterland of Luhansk Oblast, where Russian forces now control around 80 percent of the ruined city.
From Fatima to Ukraine. The Useless Lesson of Peace by Pope Wojtyla to Christians that want Weapons and War
"Moscow will fatally hit the decision-making centers if Kiev uses the weapons received from the United States against the Russian territories". This was stated by the deputy head of the Security Council of the Russian Federation Dmitry Medvedev, in an interview with Al Jazeera reported by the Russian agency Tass. "If these types of weapons are used against Russian territories – he added – the armed forces of our country will have no choice but to act to defeat the decision-making centers. "
Mariupol Freed from the Zelensky's Nazis Satanists. Putin conquers the Military Target and Shows the True Face of the Kiev Partisans (video)
THE HIMARS ROCKETS FROM US TO KIEV
Russia is advancing in the east behind a barrage of artillery that has strained Ukrainian defenses and Western unity over support for a protracted war. The United States' much-anticipated decision to send Kyiv long-range missile systems that will allow its forces to fire farther and faster has likely come too late to save two key cities in the Donbas region that has become the focal point of the fighting.
But the delivery of the weapons after months of urging from Ukrainian officials will help the country's military face the next, potentially decisive stage of the conflict — as the Kremlin perhaps hinted at in response, accusing the U.S. of "deliberately pouring oil on the fire."
President Joe Biden announced Wednesday that the U.S. would be sending Ukraine the high mobility artillery rocket system or HIMARS. "This new package will arm them with new capabilities and advanced weaponry, including HIMARS with battlefield munitions, to defend their territory from Russian advances," he said in a statement.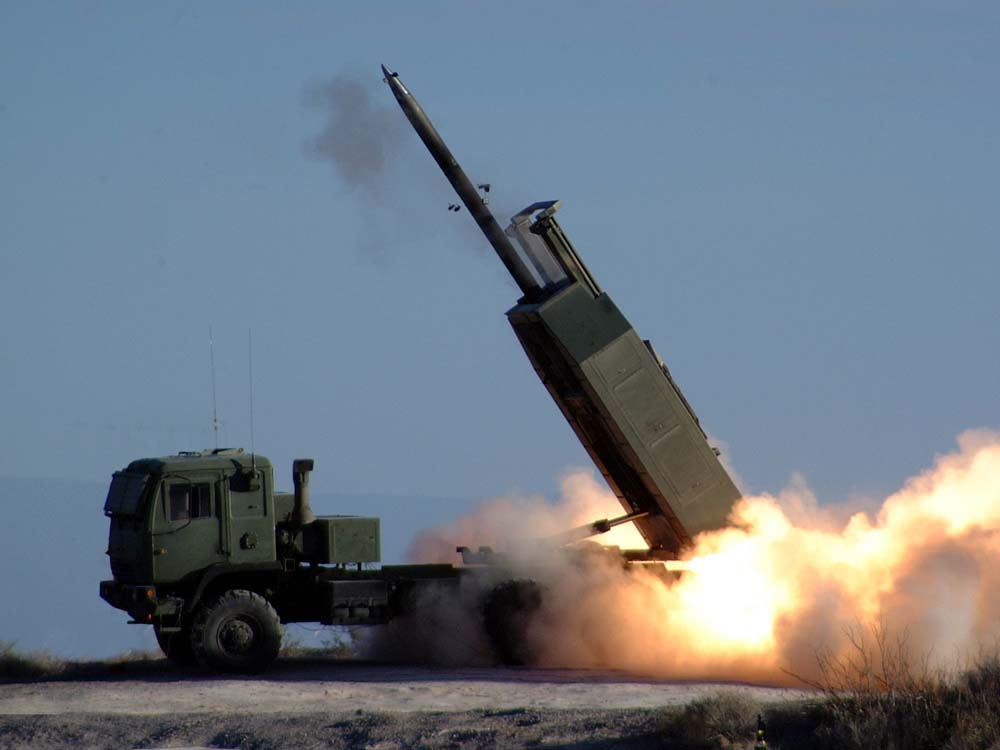 The HIMARS is a variant of the longer-range multiple-launch rocket system or MLRS. The U.S. is sending four the rocket launch systems to Ukraine.
A senior Ukrainian official told NBC News after the announcement that he remained "very much worried… particularly since they have committed only a small battery of MLRSs, meaning they yet won't make a large difference."
MLRS missiles typically have a range of up to 40 miles and can be equipped with GPS-guided missiles. This would be a significant upgrade of the Ukrainian artillery's current range, which tops out at around 20 miles with the M777 howitzers its allies have so far provided.
WAR CRIMES & DECEITS. ICC against Putin! Unpunished NATO Allies: Ukrainian Nazis as Bosnian Butcher, Jihadists General
The systems have the added benefit of being self-propelled, meaning they can be fired and moved fast enough to avoid enemy response salvos.
Phil Wasielewski, a fellow at the Philadelphia-based Foreign Policy Research Institute, said the systems would aid Ukrainian forces in the Donbas, where the battle has "turned into an artillery duel."
THE AKATSIYA HOWITERS FROM RUSSIA TO BELARUS
Russia has sent 2S3M Akatsiya self-propelled howitzers to Belarus under the 2022 contract after their major repairs, the press office of the Uralvagonzavod defense manufacturer (part of the state tech corporation Rostec) reported on Thursday» reported TASS Russian News Agency.
"As part of fulfilling two 2022 contracts, Uraltransmash [within Uralvagonzavod] has sent 2S3M Akatsiya self-propelled howitzers to the Republic of Belarus after their major repairs," the press office said in a statement.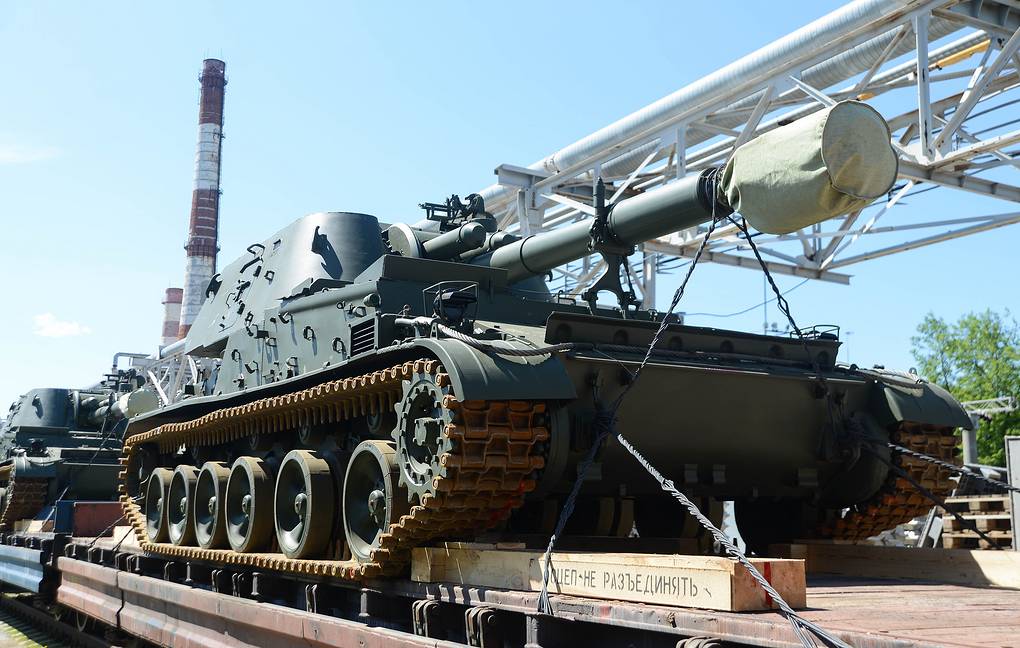 Uraltransmash carries out major repairs of 2S3M guns and upgrades Akatsiya howitzers to the 2S3M level, it said.
"The vehicle features improved communications means, a higher rate of fire, and a larger ammunition load while imported components have been completely replaced," the press office quoted Uraltransmash CEO Dmitry Semizorov as saying.
PUTIN CELEBRATES THE VICTORY. "War in Ukraine against Nazis and NATO Plans". Nuclear Nightmare for NWO
2S3 Akatsiya howitzers were accepted for service in 1972. In 1975, they were upgraded to the 2S3M level. 152mm Akatsiya howitzers are designed to suppress and eliminate enemy manpower, artillery and mortar batteries, rocket systems, tanks, firepower, command posts, and tactical nuclear weapons.
---
MAIN SOURCES
https://www.gospanews.net/en/2022/06/02/wuhan-gates-50-the-italian-boss-of-obamas-coronavirus-ukraine-laboratories-funded-by-former-cia-director-leon-panetta/
Fabio is Director and Editor of Gospa News; a Christian Information Journal.
Fabio Giuseppe Carlo Carisio, born on 24/2/1967 in Borgosesia, started working as a reporter when he was only 19 years old in the alpine area of Valsesia, Piedmont, his birth region in Italy. After studying literature and history at the Catholic University of the Sacred Heart in Milan, he became director of the local newspaper Notizia Oggi Vercelli and specialized in judicial reporting.
For about 15 years he is a correspondent from Northern Italy for the Italian newspapers Libero and Il Giornale, also writing important revelations on the Ustica massacre, a report on Freemasonry and organized crime.
With independent investigations, he collaborates with Carabinieri and Guardia di Finanza in important investigations that conclude with the arrest of Camorra entrepreneurs or corrupt politicians.
In July 2018 he found the counter-information web media Gospa News focused on geopolitics, terrorism, Middle East, and military intelligence.
His articles were published on many international media and website as SouthFront, Reseau International, Sputnik Italia, United Nation Association Westminster, Global Research, Kolozeg and more…
His investigations was quoted also by The Gateway Pundit, Tasnim and others
He worked for many years for the magazine Art & Wine as an art critic and curator.
ATTENTION READERS
We See The World From All Sides and Want YOU To Be Fully Informed
In fact, intentional disinformation is a disgraceful scourge in media today. So to assuage any possible errant incorrect information posted herein, we strongly encourage you to seek corroboration from other non-VT sources before forming an educated opinion.
About VT
-
Policies & Disclosures
-
Comment Policy
Due to the nature of uncensored content posted by VT's fully independent international writers, VT cannot guarantee absolute validity. All content is owned by the author exclusively. Expressed opinions are NOT necessarily the views of VT, other authors, affiliates, advertisers, sponsors, partners, or technicians. Some content may be satirical in nature. All images are the full responsibility of the article author and NOT VT.