On the image cover Italian Republic President Sergio Mattarella, hidden director of Leonardo defense business, and Bill Gates, NATO's big partner
by Fabio Giuseppe Carlo Carisio for VT Italy
VERSIONE ORIGINALE IN ITALIANO
NATO's DIANA project will be the convergence point of an international intrigue between IT tycoon Bill Gates and Italian "bipartisan" politics. If we were not fully aware of the role played by the Bill & Melinda Gates Foundation in financing the dangerous experiments on HIV infected SARS viruses from which SARS-Cov-2 emerged from the laboratory with the consequent pandemic and the subsequent Big Pharma business, we shouldn't be alarmed.
WUHAN-GATES – 49. SARS-2 BIoWeapon: EU Commission Hides the Truth on Experiments Funded in China with USAID-CIA
If we had not published, already in November 2021, the CEPA plan with which the defense leaders of the Atlantic Alliance and the European Union designed, thanks to funding from the Weapons Lobby, the militarization of Europe provoking Russia to the point of forcing it to intervene in Ukraine in defense of the battered Donbass, this "Defense innovation accelerator for the north Atlantic" project would represent a normal tool for implementing military technologies.
But in previous investigations we have seen how Bill Gates' "longa manu" identified Piedmont as a region for the development of artificial intelligence for war purposes just as it identified Tuscany as the vaccine incubator of the London-based GlaxoSmithKline, a leading commercial partner in synergy with Pfizer, manufacturer of the anti-Covid gene serum.
WEAPONS LOBBY – 5. NWO's Warfare Plan against Russia and Counter-Information. CEPA Project from Washington with NATO-EU & Defense Corporations
Furthermore, the acrononym DIANA also has a strong metaphorical value because it evokes the Roman divinity of hunting and wild beasts that the Greeks revered as Artemis and was Apollo's sister. This goddess was also a symbol of purity that is increasingly rooted in Western intellectual pride despite her slushy and growing lobbying, especially in the most delicate social areas such as health and defense.
Italian Political Govt Crisis to Launch Draghi as NATO General Secretary
THE NATO's DIANA PROJECT
On April, 7, 2022, Allied foreign ministers approved the Charter of the Defence Innovation Accelerator for the North Atlantic – or DIANA. "Working with the private sector and academia, Allies will ensure that we can harness the best of new technology for transatlantic security," said NATO Secretary General Jens Stoltenberg. 
«DIANA will bring defence personnel together with the Alliance's best and brightest start-ups, scientific researchers, and technology companies to solve critical defence and security challenges. Innovators participating in DIANA's programs will receive access to its network of dozens of accelerator sites and test centres across more than 20 Allies. NATO leaders agreed that DIANA would have a regional office in Europe and in North America. DIANA's European regional office was selected from a joint Estonian-United Kingdom bid, and Canada is actively looking at hosting the North American regional office» we can read in NATO official website.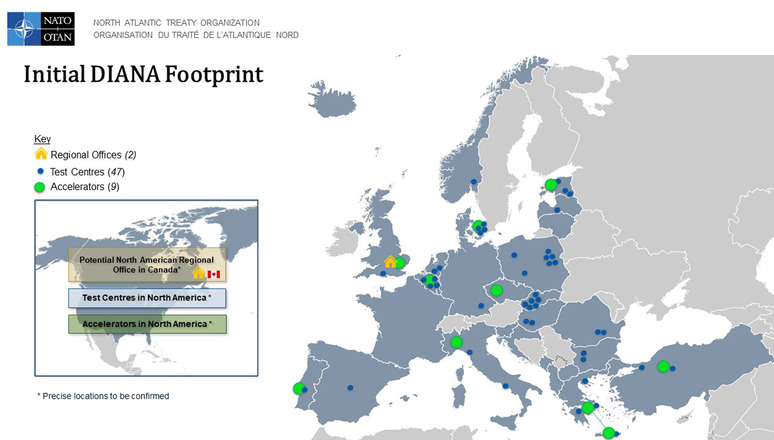 DIANA will concentrate on deep technologies – those emerging and disruptive technologies that NATO has identified as priorities including: artificial intelligence, big-data processing, quantum-enabled technologies, autonomy, biotechnology, novel materials and space.
Allies have also agreed to a framework for a multinational NATO Innovation Fund. This is the world's first multi-sovereign venture capital fund. It will invest 1 billion euros in early-stage start-ups and other deep tech funds aligned with its strategic objectives.
STOLTENBERG: NATO's Puppet for Gates-NWO in Pandemic as in Ukrainian War. Gavi Vaccines & Norges Bank Weapons Affairs on Yemen's Bombs
DIANA HEADQUARTERS IN THE TURIN'S GATES NEST
In Turin, the DIANA headquarters will be hosted in the Officine grande repairs (OGR): the same place where the Microsoft for Startups project has already started thanks to the collaboration signed between Microsoft Global Sales, Marketing and Operations and the OGR supported by funding from the CRT Foundation (Cassa di Risparmio di Torino).
As part of the NATO plan there will also be a synergy between the Politecnico di Torino and Leonardo, the Italian national defense industry and controlled by the state but participated by international investment funds such as BlackRock, which has already defined a collaboration with Microsoft for new military technologies in the field of Artificial Intelligence.
In Gates' Hands even Italian Military Artificial Intelligence. Leonardo-Microsoft Deal and Dems intrigues through 007 and Pandemic
Here the DIANA project appears an evident development strategy between Gates and NATO, whose secretary general Jens Stoltenberg was director of the NGO GAVI Alliance, a pioneer in global immunization with vaccines also in synergy with the former CEO of Vodafone Vittorio Colao, become Minister for Technological Innovation and Digital Transition in Mario Draghi's government.
NWO's Plot vs Italy (X-file 2). New IT Minister among Bilderberg, McKinsey, Gates & CIA for Artificial Intelligence in Vaccines too
But the political intrigues are transversal to a jumble of various sides of the current majority (put in crisis by the resignation of Draghi due to the break with the 5Stele Movement). Leonardo's president is former general Luciano Carta, former director of the Italian counterintelligence AISE, and is considered a trusted man by the President of the Republic Sergio Mattarella, former deputy of the Democratic Party known for his experiences as Minister of Defense and vice president of the Council with delegation to the secret services.
The current Minister of Defense Lorenzo Guerrini and the Mayor of Turin Stefano Lo Russo are both from the PD.
BIPARTISAN POLITICAL INTRIGUES IN ITALY
"Turin has been identified by the Presidency of the Council of Ministers as the main seat of the Institute for Artificial Intelligence (I3A). I3A will be a real network and will be able to count on a thousand people and an annual budget of around 80 million euros. In this way, the various research activities in this field can be coordinated, in line with the strategy defined by the Ministry for Economic Development "which is headed by Minister Giancarlo Giorgetti, member of the League and coordinator of the project for the use in Italy of the patents of Big Pharma vaccines.
NWO's Plot against Italy (X-file 3) – League's Minister No More Populist: looks for production of Gates Big Pharma's Vaccines
The glue between NATO's DIANA project and the Artificial Intelligence in the hands of Bill Gates is a further development of military technologies supported by the governor of the Piedmont Region Alberto Cirio of Forza Italia.
"Aerospace is one of the flagship projects that the Government has asked of us, one of the excellences in which we want to excel, together with hydrogen, from the perspective of the PNRR funds. A very clear design vision to be pursued with the entire industrial system» said Cirio last year at the opening of the Aerospace & Defense Meetings.
MATTARELLA AMBASCIATORE NWO: ANNUNCIA CRISI GAS E VENTI DI GUERRA. Biden & NATO già in Azione in Ucraina e Siria contro la Russia
To make it clear what the Atlanticist ramification is in the Italian political sphere, it is necessary to remember that he is the president of the Federation of Italian Companies for Aerospace, Defense and Security (AIAD), an association registered with Confindustria of which the National Association are also members Sports and Civil Arms and Ammunition Manufacturers (ANPAM) and the Association for Services, Applications and ICT Technologies for Space (ASAS).
He is Guido Crosetto, originally from Cuneo and founder with Giorgia Meloni of Fratelli d'Italia. On the official website of the AIAD it can be read that «Leonardo is the first Italian industrial group in the high technology sector and one of the top ten world players in Aerospace, Defense and Security. For over 70 years he has been a leader in Italy in industrial and technological development». This is how the circle of political intrigues between Mattarella's PD and the FdI opposition closes.
Zionist Lobby – 1. Singer (Elliott) & Fink (BlackRock) within Gates-Soros in Covid Big Pharma's Business(GSK & Gilead)
Finally, it should be remembered that one of Leonardo's most influential partners, the American fund BlackRock of the Zionist activist Larry Fink, is also a shareholder in some of the most important vaccine Big Pharma, in a very disturbing international globalist intrigue especially after the mandatory imposition of experimental gene sera in Italy and the national digital innovation projects finished in the hands of Gates.
Fabio Giuseppe Carlo Carisio
© COPYRIGHT GOSPA NEWS
prohibition of reproduction without authorization 
follow Gospa News on Telegram
GOSPA NEWS – FREEMANSORY DOSSIER
MORE DETAILS ON DIANA PROJECT IN ITALIAN REPORT WITH MACHINE TRANSLATION
WEAPONS LOBBY – 6. Third World War Warnings! UK, Nato, US & Zelensky threaten Russia and China
DOPO VACCINI & INTELLIGENZA ARTIFICIALE GATES ARRAFFA PURE IL TARTUFO BIANCO D'ALBA. Perla di Langa nella Microsoft House
The Risks of US Military Assistance to Ukraine. Disturbing Alert by NATO's Media Partner Defense One
Implementing a New World Order: Politics do Not Rule the World, Corporations, Financial Institutions and Bankers do
RENZI "SCEICCO D'ARABIA" DOPO I VACCINI AI BAMBINI. Consulenza d'Oro dai Sauditi: Partner di GSK e Sponsor del "Decreto Lorenzin"
"IL NUOVO ORDINE MONDIALE E' PRIVO DI UMANA INTELLIGENZA". Quindi Impone la Dittatura tramite Web, Social & Artificial Intelligence
Leonardo DRS CEO: Acquiring Israeli firm RADA part of 'integrated sensing' strategy by Italian Corporation
Fabio is Director and Editor of Gospa News; a Christian Information Journal.
Fabio Giuseppe Carlo Carisio, born on 24/2/1967 in Borgosesia, started working as a reporter when he was only 19 years old in the alpine area of Valsesia, Piedmont, his birth region in Italy. After studying literature and history at the Catholic University of the Sacred Heart in Milan, he became director of the local newspaper Notizia Oggi Vercelli and specialized in judicial reporting.
For about 15 years he is a correspondent from Northern Italy for the Italian newspapers Libero and Il Giornale, also writing important revelations on the Ustica massacre, a report on Freemasonry and organized crime.
With independent investigations, he collaborates with Carabinieri and Guardia di Finanza in important investigations that conclude with the arrest of Camorra entrepreneurs or corrupt politicians.
In July 2018 he found the counter-information web media Gospa News focused on geopolitics, terrorism, Middle East, and military intelligence.
His articles were published on many international media and website as SouthFront, Reseau International, Sputnik Italia, United Nation Association Westminster, Global Research, Kolozeg and more…
His investigations was quoted also by The Gateway Pundit, Tasnim and others
He worked for many years for the magazine Art & Wine as an art critic and curator.
ATTENTION READERS
We See The World From All Sides and Want YOU To Be Fully Informed
In fact, intentional disinformation is a disgraceful scourge in media today. So to assuage any possible errant incorrect information posted herein, we strongly encourage you to seek corroboration from other non-VT sources before forming an educated opinion.
About VT
-
Policies & Disclosures
-
Comment Policy
Due to the nature of uncensored content posted by VT's fully independent international writers, VT cannot guarantee absolute validity. All content is owned by the author exclusively. Expressed opinions are NOT necessarily the views of VT, other authors, affiliates, advertisers, sponsors, partners, or technicians. Some content may be satirical in nature. All images are the full responsibility of the article author and NOT VT.