Cover image by © Eva Bartlett for RT
Introduction by Fabio Giuseppe Carlo Carisio
When Russia launched the military operation in Ukraine to dezanify and demilitarize the Kiev regime imposed by the NATO coup in 2014, the European Union censored the connections with some of the most important Russian networks such as Sputnik.
In June, an Italian geopolitics expert at Luiss University was removed from his post in an International Security Observatory for having expressed the reasons of Russian President Vladimir Putin on television. The broadcast that hosted it was censored by the Italian state television RAI.
Putin's Friends Bulletin Built by Italian Intelligence to Strike Counter-Information as Wanted by NATO & Weapons Lobby
In the same month, a dossier prepared by the Italian intelligence appeared which cataloged all the reporters, media and bloggers who reported the Russian version on the daily events of the war.
Gospa News found the page closed, without warning, from Facebook after Google had already removed all advertising and YouTube blocked its account.
My personal profile was deleted by Linkedin, then blocked with technical tricks by FB and limited in views on Twitter but also on Telegram where the Gospa News page, despite numerous views of the posts, has not been able to overcome the same number of subscribers.
WEAPONS LOBBY – 5. NWO's Warfare Plan against Russia and Counter-Information. CEPA Project from Washington with NATO-EU & Defense Corporations
This is why reporter Eva Karen Bartlett's complaint about Western mainstream media behavior is correct.
Unfortunately, those of counter-information are already the subject of retaliation on social media as foreseen by the CEPA militarization plan, realized by NATO think tank two years before the invasion of Ukraine decided by the Kremlin.
Fabio Giuseppe Carlo Carisio
---
The civilian death toll keeps growing as some EU citizens rise up against their governments' support for Kiev
by Eva Bartlett for Russia Today – All links to Gospa News articles have been added aftermath
Eva Bartlett is a Canadian independent journalist. She has spent years on the ground covering conflict zones in the Middle East, especially in Syria and Palestine (where she lived for nearly four years). The writer is a recipient of the 2017 International Journalism Award for International Reporting, granted by the Mexican Journalists' Press Club (founded in 1951), was the first recipient of the Serena Shim Award for Uncompromised Integrity in Journalism, and was short-listed in 2017 for the Martha Gellhorn Prize for Journalism. See her extended bio on her blog In Gaza. She tweets from @EvaKBartlett.
---
On Monday, Ukraine slaughtered 16 civilians, including two children, with 155mm NATO shells, according to the head of the Donetsk People's Republic (DPR), Denis Pushilin. The projectiles hit two adjacent neighborhoods, decimating residential and commercial areas – including a market that had previously suffered fatal attacks.
Scenes of death are nothing new for residents and reporters here in Donetsk, which is intermittently the target of Ukrainian attacks, like the one that hit its central region on August 4, killing six people, including an 11-year-old ballerina, her grandmother, and her ballet teacher.
But the carnage on Monday was worse than anything I've seen in my months of reporting here. Chunks of flesh littered the street – part of a hand, a foot, an ear. Someone had put a dead man's phone on his stomach. It was ringing, the cheery ringtone incongruous with his lifeless body and the scenes and stench of death around him.
For most people, the concept of war is a distant one, and deaths are normalized by media reporting the numbers of victims and destroyed buildings – so most who hear of civilians being killed don't really understand what a scene like this looks or smells like.
For the locals, it is also normalized, in its own way, after over eight years of Ukrainian attacks – a tragically grotesque kind of normality, where the post-bombing routine starts soon after the last explosions die down.
When I arrived at the scene, locals were already sweeping up glass shards and boarding windows, preparing to reopen their shops. Inspectors from the Russian Investigative Committee were on site collecting shrapnel and measuring the shell's impact point, to determine the nature of the armament. When asked about what happened, they were careful to state that they could not say anything until the conclusion of their investigation.
WAR CRIMES & DECEITS. ICC against Putin! Unpunished NATO Allies: Ukrainian Nazis as Bosnian Butcher, Jihadists General
An emergency vehicle arrived and workers began loading the bodies, or body parts, onto stretchers, clearing them away.
About 100 meters away, there was a gaping hole in the side of an apartment building. The shell had struck right where writing on the wall indicated the direction to the nearest basement, which was to be used as a bomb shelter. Doors to such stairways are generally permanently left open, so that anyone caught up in shelling might have a chance to survive, if they can make it to the door and basement in time.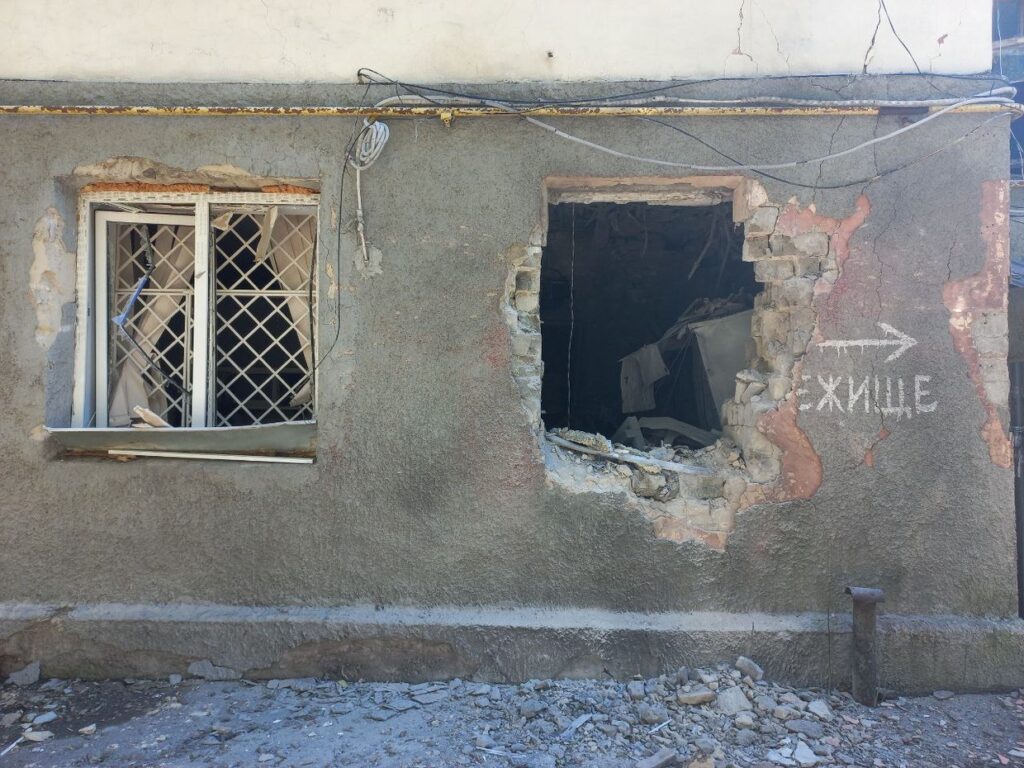 Victims of another Ukrainian assault, which took place on Saturday, didn't have that option. The center of Donetsk was hit by around ten bombs over the course of 30 minutes around noon. At least four civilians were killed, one of whom I saw still on the ground. Some minutes later, her body was taken away. One of the shells hit a car driving along Artema Street, setting it ablaze and killing two civilians. By the time I reached that site, the vehicle had burned out, the dead taken away. Workers were already repaving the roads, sweeping debris and glass from sidewalks.
On Thursday, again around noon, Ukraine again shelled central Donetsk, this time next to a busy market. The shelling left six people dead on the street and in a burned out bus.
Western weapons killing Donbass civilians
When Russian and Donbass voices state that Ukraine is killing Donbass civilians with Western weapons, the reply is silence, derision, or inversion of reality: claims that Russia is bombing Donbass – which any ordinary resident here would disprove easily, having been under Ukraine's shelling for over eight years.
War correspondent, Christelle Neant, wrote of Saturday's bombings:
"After submitting the photos of the shrapnel I found on the spot to Adrien Bocquet, who is now a NATO weapons expert for the DPR's representation in the JCCC (Joint Monitoring and Co-ordination Center on Ukraine's War Crimes), he confirmed that they were American 155mm shells, some fired from Caesar guns and others from TRF1 guns.
The famous TRF1 guns that can fire (banned) 155mm cluster munitions, which I had mentioned in June, and which the Western press had assured that France had not supplied to Ukraine! Before learning at the beginning of September that Paris had indeed sold them to Kiev!"
The Risks of US Military Assistance to Ukraine. Disturbing Alert by NATO's Media Partner Defense One
Europeans in Germany, France and Italy recently held "#StopKillingDonbass" actions, denouncing the sale of Western weapons to Ukraine, and calling for it to end. It was rather fitting that the actions occurred the day after Ukraine bombed central Donetsk again.
These actions were followed by the release of a petition against arms supplies to Ukraine, which stated:
"Today, contrary to the fundamental principles set forth in Article 2 of the UN Charter, in particular, the principles of sovereign equality and the peaceful settlement of international disputes, our countries supply Ukraine with weaponsthat cause massive deaths and injuries of civilians in Donbass, including children."
It concludes: "We demand an end to the financing of state terrorism and genocide against the people of Donbass, as well as the ongoing violations of the Geneva Conventions of 1949 and other acts of international humanitarian law since 2014."
At this point, there is no safe region in Donetsk, nowhere is off-limits for Ukraine's bombings, not maternity hospitals, nor busy markets. The issue does, however, appear to be off-limits for the reporting of Western corporate-owned media.
Eva Bartlett originally published by Russia Today
All links to Gospa News articles have been added aftermath
---
West's Anti-Russia Policies, Partial Mobilization & Referendums in Ukraine: Key Points of Putin's Address
"West can End Fighting in Ukraine Tomorrow". Roger Waters, Pink Floyd co-founder, told RT
NATO's COUP IN UKRAINE: THE GENESIS – 1. Snipers' Massacre in Kiev Maidan Square 2014 like that on CIA's Shade in Caracas 2002
WEAPONS LOBBY – 6. Third World War Warnings! UK, Nato, US & Zelensky threaten Russia and China
Ukraine War: Journalist and Academic Banned by Italian TV due to they Spoke about the Putin Reasons. Press Freedom Collapses
UKRAINE's SUICIDAL WAR! 45,000 Tons of NATO Ammunition Destroyed. Hundreds of Nationalists and Foreign Fighters Killed
Fabio is Director and Editor of Gospa News; a Christian Information Journal.
Fabio Giuseppe Carlo Carisio, born on 24/2/1967 in Borgosesia, started working as a reporter when he was only 19 years old in the alpine area of Valsesia, Piedmont, his birth region in Italy. After studying literature and history at the Catholic University of the Sacred Heart in Milan, he became director of the local newspaper Notizia Oggi Vercelli and specialized in judicial reporting.
For about 15 years he is a correspondent from Northern Italy for the Italian newspapers Libero and Il Giornale, also writing important revelations on the Ustica massacre, a report on Freemasonry and organized crime.
With independent investigations, he collaborates with Carabinieri and Guardia di Finanza in important investigations that conclude with the arrest of Camorra entrepreneurs or corrupt politicians.
In July 2018 he found the counter-information web media Gospa News focused on geopolitics, terrorism, Middle East, and military intelligence.
His articles were published on many international media and website as SouthFront, Reseau International, Sputnik Italia, United Nation Association Westminster, Global Research, Kolozeg and more…
His investigations was quoted also by The Gateway Pundit, Tasnim and others
He worked for many years for the magazine Art & Wine as an art critic and curator.
ATTENTION READERS
We See The World From All Sides and Want YOU To Be Fully Informed
In fact, intentional disinformation is a disgraceful scourge in media today. So to assuage any possible errant incorrect information posted herein, we strongly encourage you to seek corroboration from other non-VT sources before forming an educated opinion.
About VT
-
Policies & Disclosures
-
Comment Policy
Due to the nature of uncensored content posted by VT's fully independent international writers, VT cannot guarantee absolute validity. All content is owned by the author exclusively. Expressed opinions are NOT necessarily the views of VT, other authors, affiliates, advertisers, sponsors, partners, or technicians. Some content may be satirical in nature. All images are the full responsibility of the article author and NOT VT.