by Fabio Giuseppe Carlo Carisio
All Gospa News articles in Italian linked in this one can be read in English with simultaneous machine translation
Italy is a Republic controlled much more by Freemasonry, CIA and Mafia than its rulers and citizens…
So we are not wondered that we are one of the first Nations to promote a National research center "Development of gene therapy and drugs with RNA technology" together with the Big Pharma of vaccines (in which the Bill & Melinda Gates Foundation has invested and now rakes millionaire profits)) and the American pharmaceutical company of which the the medical director is the husband of Ursula Von der Leyen, president of the European Commission under investigation by the European Public Prosecutor EPPO, precisely for the purchase contracts of anticovid gene serums.
In the same way we should not be surprised if it was one of the countries in the world that applied the most harsh restrictions for the Covid-19 emergency, both with the imposition of absurd lockdowns, and with the mandatory vaccination for many professional and social categories (health and school workers, police, armed forces, over 50s).
WUHAN-GATES – 55. BILL III, Virus & Vaccines Emperor, Lobbied US-EU Govts with $8.3 Million Through His NGOs
This is why the new right-wing Italian premier Giorgia Meloni, affiliated with well-known think thanks controlled by the Rockefeller Foundation such as her Defense Minister Guido Crosetto, leader of the Weapons Lobby, was among the first world rulers to adhere to the G20 Bali Leaders' Declaration that the White House has strongly wanted and touted.
It announces the future strategies of a world health dictatorship based on three iron rules for this infinite pandemic and for the next ones: to increase the experimentation of messenger RNA biotechnologies, which multiple studies indicate as extremely dangerous for humans, to adopt a Eternal Green Pass for international travel and censoring all sources that even venture to hypothesize the suspicion that these strategies can seriously harm health.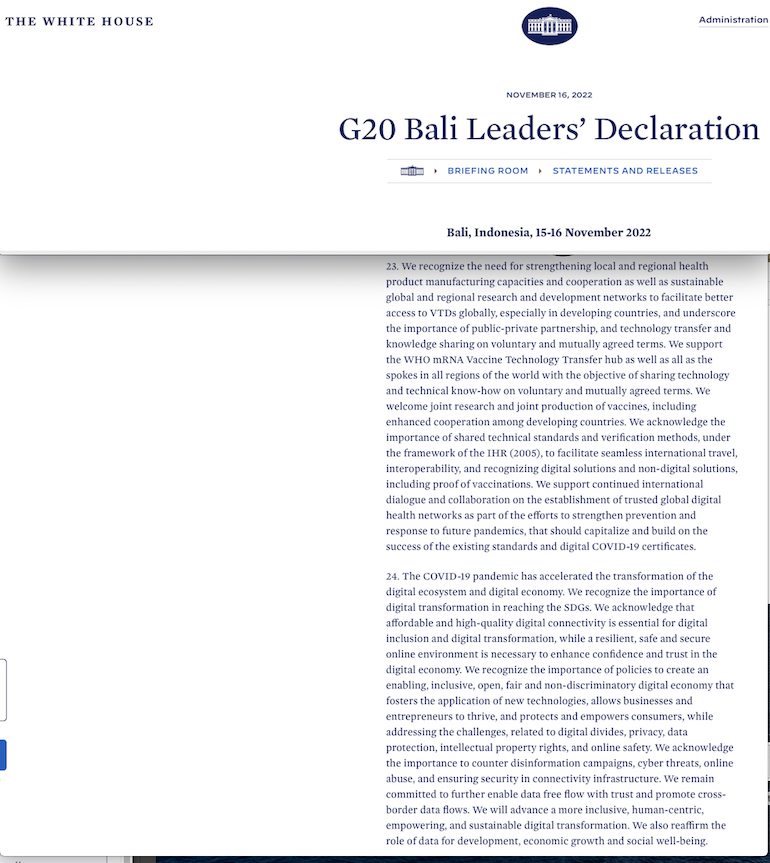 This represents the basic platform for the birth of a new even more powerful "agency" that has already been designed by the World Health Organization, financed and controlled by Bill Gates as the Big Pharma of vaccines, and will be launched at the G7 of 2023 which will be held in Japan, in the city of Hiroshima.
After the atomic bomb that revolutionized international geopolitics and the arms market with the run-up to nuclear missiles, here is the "health bomb" which, with the excuse of the health of the most fragile, will legitimize further deprivation of freedom.
The COVID Jabs' Mechanisms of Injury: Sudden Death, Blood Cloths, Human Mad Cow and Autoimmune Diseases
«Japan has agreed with the World Health Organization (WHO) to set up a new organization to strengthen public health systems in developing countries. This was announced by the Japanese Foreign Ministry. The Japanese prime minister, Fumio Kishida, and the WHO director, Tedros Adhanom Ghebreyesus, had agreed on the establishment of the new entity during a telephone conversation last May».
In two articles of the G20 Bali's Declaration, the tracks for this new form of global social control by the New World Order were built, in accordance with a project launched by the Rockefeller Foundation and the NGO Gavi Alliance di Gates in Washington and Italy in far 1999.
«We recognize the need for strengthening local and regional health product manufacturing capacities and cooperation as well as sustainable global and regional research and development networks to facilitate better access to VTDs globally, especially in developing countries, and underscore the importance of public-private partnership, and technology transfer and knowledge sharing on voluntary and mutually agreed terms» the article 23 stated.
LA DITTATURA SANITARIA PARTIRA' DA HIROSHIMA. Al G7 in Giappone il Lancio del Piano OMS per il Controllo Globale
«We support the WHO mRNA Vaccine Technology Transfer hub as well as all as the spokes in all regions of the world with the objective of sharing technology and technical know-how on voluntary and mutually agreed terms. We welcome joint research and joint production of vaccines, including enhanced cooperation among developing countries»
The declaration added despite British Medical Journal had recently blamed Food and Drug Administration for for the lack of publication of updated pharmacovigilance data on serious adverse reactions, in particular on the most common anti-Covid gene sera based on messenger RNA produced by the American Big Pharma Pfizer and Moderna.
British Medical Journal's BOMB: "US FDA Hides Data on Serious Adverse Events after Covid Vaccines"
The the G20 Bali Leaders' Declaration launched a disturbing warning to all people of the world:
«We acknowledge the importance of shared technical standards and verification methods, under the framework of the IHR (2005), to facilitate seamless international travel, interoperability, and recognizing digital solutions and non-digital solutions, including proof of vaccinations. We support continued international dialogue and collaboration on the establishment of trusted global digital health networks as part of the efforts to strengthen prevention and response to future pandemics, that should capitalize and build on the success of the existing standards and digital COVID-19 certificates».
The plan – which can better called "the plot" – of the international Green Pass dreamed by Bill Gates and Klaus Schwab, World Economic Forum chairman, must go on… There's only to wait when the microchip under skin, the Mark of the Beast patented by Microsoft Corporation for money transfert, will become reality!
EU GREEN PASS, UNDER SKIN MICROCHIP AND GATES' 666 MARK OF THE BEAST. Transhumanist Plot by Klaus Schwab (Great Reset) & NWO against Christianity
The article 24 of the G20 Bali Leaders' Declaration exposed another big threat for scientists, journalists, bloggers that are looking for the truth behind the pandemic caused by an artificial SARS-Cov-2 built in laboratory, the dangerousness of mRNA vaccines and all the ruinous health policies.
«The COVID-19 pandemic has accelerated the transformation of the digital ecosystem and digital economy. We recognize the importance of digital transformation in reaching the SDGs. We acknowledge that affordable and high-quality digital connectivity is essential for digital inclusion and digital transformation, while a resilient, safe and secure online environment is necessary to enhance confidence and trust in the digital economy».
WUHAN-GATES – 62. Vaccini d'Oro & SARS-Cov-2 da Laboratorio: Complotto NWO-Gates-CIA nel Covo dei Rockefeller a Bellagio
«We recognize the importance of policies to create an enabling, inclusive, open, fair and non-discriminatory digital economy that fosters the application of new technologies, allows businesses and entrepreneurs to thrive, and protects and empowers consumers, while addressing the challenges, related to digital divides, privacy, data protection, intellectual property rights, and online safety».
«We acknowledge the importance to counter disinformation campaigns, cyber threats, online abuse, and ensuring security in connectivity infrastructure. We remain committed to further enable data free flow with trust and promote cross-border data flows. We will advance a more inclusive, human-centric, empowering, and sustainable digital transformation. We also reaffirm the role of data for development, economic growth and social well-being».
The Big Brother is becoming Huge! The social dictatorship through the healthy emergency is behind the door. The Hiroshima WHO project is the following step.
Judge Orders Fauci, Psaki, FBI Top Official Be Deposed in Big Tech Censorship Case on the Covid-19 Info
Without God's help we can do nothing to fight the New World Order tyranny, because we are living for the second time the biblical challenge between David and Goliath.
At the moment is already important to have the awareness of this transhumanist conspiracy and spread it.
Fabio Giuseppe Carlo Carisio
© COPYRIGHT GOSPA NEWS
prohibition of reproduction without authorization 
follow Gospa News on Telegram
WUHAN-GATES -58. "Inside SARS-Cov-2 the Fingerprints of a Genetically Modified Virus". New US-German Study claimed Covid-19 Artificial Origin
PANDEMIA & GUERRA: COME LOTTARE CONTRO I COMPLOTTI NWO. Lezioni Bibliche di Re Davide, Papa Wojtyla e Marc Chagall
European Prosecutors (EPPO) investigating EU Vaccine Deal after Chat between Von der Leyen and Pfizer's CEO. And Gates' NGO Lobbying
LA DITTATURA SANITARIA PARTIRA' DA HIROSHIMA. Al G7 in Giappone il Lancio del Piano OMS per il Controllo Globale
Italian Judge Borsellino Assassination: 30 Years of Mafia Injustice through Misdirections inside the Masonic State
Italy: Masonic Lockdown! Churches banned for Funerals. Squares Open for Kommunists. Mobsters freed
NWO's Plot against Italy (XFile 6). Mandatory Vaccines for Health Workers Dictated by Minister close to Soros
Fabio is Director and Editor of Gospa News; a Christian Information Journal.
Fabio Giuseppe Carlo Carisio, born on 24/2/1967 in Borgosesia, started working as a reporter when he was only 19 years old in the alpine area of Valsesia, Piedmont, his birth region in Italy. After studying literature and history at the Catholic University of the Sacred Heart in Milan, he became director of the local newspaper Notizia Oggi Vercelli and specialized in judicial reporting.
For about 15 years he is a correspondent from Northern Italy for the Italian newspapers Libero and Il Giornale, also writing important revelations on the Ustica massacre, a report on Freemasonry and organized crime.
With independent investigations, he collaborates with Carabinieri and Guardia di Finanza in important investigations that conclude with the arrest of Camorra entrepreneurs or corrupt politicians.
In July 2018 he found the counter-information web media Gospa News focused on geopolitics, terrorism, Middle East, and military intelligence.
His articles were published on many international media and website as SouthFront, Reseau International, Sputnik Italia, United Nation Association Westminster, Global Research, Kolozeg and more…
His investigations was quoted also by The Gateway Pundit, Tasnim and others
He worked for many years for the magazine Art & Wine as an art critic and curator.
ATTENTION READERS
We See The World From All Sides and Want YOU To Be Fully Informed
In fact, intentional disinformation is a disgraceful scourge in media today. So to assuage any possible errant incorrect information posted herein, we strongly encourage you to seek corroboration from other non-VT sources before forming an educated opinion.
About VT
-
Policies & Disclosures
-
Comment Policy
Due to the nature of uncensored content posted by VT's fully independent international writers, VT cannot guarantee absolute validity. All content is owned by the author exclusively. Expressed opinions are NOT necessarily the views of VT, other authors, affiliates, advertisers, sponsors, partners, or technicians. Some content may be satirical in nature. All images are the full responsibility of the article author and NOT VT.