On the cover image the new B-21 Raider Stealth bomber and the very old Boeing B-29 Superfortress bomber, after named Enola Gay as tribute to the mother of pilot, colonel Paul Tibbets, who became the first aircraft to drop an atomic bomb in warfare (Hiroshima, August 6, 1945) without any subsequent international consequence for United States of America
Introduction by Fabio Giuseppe Carlo Carisio
All articles in Italian linked are available in English version with simultaneous machine translation
First AWW is coming? May be…
Now Us Air Force is finally revealed the top secret B-21 Raider Stealth Bomber (article below) which can deliver both conventional and nuclear munitions so is really ready for the Atomic World War now almost on the horizon.. I use this new definition because today is already obsolete to talk about about looming Third World War…
In fact, the WW III started on February, 20, 2014 when mercenary snipers killed around 100 persons in the main Kiev square during the II Orange Revolution in Ukraine financed by George Soros and his allies of NATO's countries.
NATO's COUP IN UKRAINE: THE GENESIS – 1. Snipers' Massacre in Kiev Maidan Square 2014 like that on CIA's Shade in Caracas 2002
If, after AWW, mankind will have a future might happen that in the books of history that event will be mentioned with the the Assassination of Archduke Franz Ferdinand of Austria and Sophie, Duchess of Hohenberg in Sarajevo from which Freemasonry began World War I to weaken the Christian Russia of the Romanov Tsars and prepare the beginning of the the communist-atheist for modern Christian Martyrdom.
From Fatima to Ukraine. The Useless Lesson of Peace by Pope Wojtyla to Christians that want Weapons and War
We have to recall that the killers of Black Hand, a secret organization founded by members of the Serbian Army, was tied with Young Bosnia, a a separatist and revolutionary movement active in the Condominium of Bosnia and Herzegovina, Austria-Hungary in which the members were predominantly young male students, primarily Bosnian Serbs, but it also included Bosnian Muslims and Croats.
But Young Bosnia (Mlada Bosnia) took inspiration by Young Italy of Giuseppe Mazzini (before the unification of Italy a fugitive terrorist in exile in London under the protection of the British Masons) who helped the southern general of the Confederate States of America Albert Pike, the future "pope of the US Freemasonry", to launch Young America before the American Secession war. Then the winner northern president Abrahm Lincoln was 'casually" killed by a freemason… 
So it's very difficult not find the analogies between the assassination of the duke, that started the First World War, and the bloody massacre in Euromaidan square which gave rise to the NATO coup, the civil war in Donbass waged by the neo-Nazi paramilitaries of the Azov Battalion, against which the Russian president Vladimir Putin has launched on February the specific military operation of de-Nazification and de-militarization of Ukraine.
"PIU' ARMI A KIEV". NATO ORDINA, IL PARLAMENTO ITALIANO ESEGUE! In Festa i Signori della Guerra Amici del Ministro Crosetto
In recent days, Italy has extended the military aid plan to Kiev until December 2023 due to a precise decision by the new Defense Minister Guido Crosetto who, to enter the government, has left his position as president of AIAD, the Italian Industries Federation for Aerospace, Defence and Security, and the one of advisor to Leonardo.
In the management fo this multinational (controlled 30% by the Italian State and in a little part by BlackRock) sits a former undersecretary of the Pentagon, William J. 'Bill' Lynn, Chief Executive Officer of American rib Leonardo DRS since January 2012.
Neverending WAR CRIMES in Syria under NATO's Shield! Israeli and US Airstrikes. Turkish Persecution on Rojava Population
Therefore we can consider this huge conflict between the NATO countries, which continuously arm Ukraine otherwise for months already forced to negotiate peace, and Russia, as the most dangerous front of a "piecemeal Third World War".
It is the expression used by Pope Francis to define the "world conflict" that is tearing apart the third millennium, camouflaged in a polyhedron of crises, spread across the planet like a leopard, among which the one in Syria is the most forgotten, long and heartbreaking since 2011.
The International Institute for Strategic Studies (IISS) in London has counted 42 open conflicts, for a total of 180,000 victims in 2014 alone. Without considering the children starving in the Yemen war conducted by US-Saudi coalition.
WEAPONS LOBBY – 6. Third World War Warnings! UK, Nato, US & Zelensky threaten Russia and China
"It is necessary to prepare to" fight against Russia "for what could be the Third World War" stated by the British general, Patrick Sanders, in his first speech since taking up the post of Chief of Staff of the United Kingdom army in June.
But the Pentagon in Washington is always one step ahead of his cousins in London…  With the B-21 Raider Stealth bomber it is now already ready for the first, and probably last, Atomic World War (AWW).
Fabio Giuseppe Carlo Carisio
© COPYRIGHT GOSPA NEWS
prohibition of reproduction without authorization 
follow Gospa News on Telegram
---
Top secret B-21 Raider stealth bomber finally revealed in high-powered ceremony
by Valerie Insinna for Breaking Defense – All links to Gospa News articles have been added aftermath
Northrop Grumman finally pulled the cover off the first B-21 Raider aircraft, revealing the Air Force's newest stealth bomber to the world during a once-in-a-generation roll out ceremony today (on December 02, 2022).
After brief opening remarks by Northrop CEO Kathy Warden, who said the plane "will be the backbone of US air power" and represented a "new era in technology for national defense," the gauzy silver veil was literally withdrawn to swelling orchestral music.
Backlit by blue and white lights, the B-21 then was towed halfway out of its hangar, likely to ensure that sensitive design elements in the back of the aircraft remain hidden. A flying wing similar to the B-2 — but perhaps appearing more like a flying saucer out of a 1950s sci-fi movie — the B-21 design exhibited some marked differences from its immediate predecessor, including inlets that are flusher to the body of the jet and smaller windows.
The new bomber already boasted Air Force markings, including a "0001" indicating its status as first of a series and the "ED" for its future home — Edwards Air Force Base.
Secretary of Defense Lloyd Austin, speaking in front of the plane and somewhat dwarfed by it, touted its capabilities.
"The B-21 looks imposing, but what's under the frame and the space-age coatings is even more impressive," he said, highlighting the bomber's range, stealth and durability. "Even the most sophisticated air defense systems will struggle to detect the B-21 in the sky."
WEAPONS LOBBY – 8. American Armaments Sales in Europe Booming thanks to the War in Ukraine: "US Colony after Nato Coup"
Speaking of the aircraft's range, Austin hinted that it could be even longer than the B-2s, B-1s and B-52s that make up the Air Force's legacy bomber fleet. "No other long-range bomber can match its efficiency. It won't need to be based in-theater, and it won't need logistical support to hold any target at risk," he said.
Echoing Warden's remarks to Breaking Defense before the ceremony, Austin highlighted the technological adaptability of the bomber, designed to be easily upgraded.
"The Raider is designed to deliver both conventional and nuclear munitions with formidable precision," he said," he said. "So as the United States continues to innovate, this bomber will be able to defend our country with weapons that haven't even been invented yet."
150 US Nuclear Weapons in Europe but Moscow Holds more Atomic Warheads in the World and the New Powerful Russian Sarmat ICBM
The B-21 seen today is the first test article to roll off the production line, with five other bombers in some stage of production at Northrop's facilities at the Air Force's secretive Plant 42. After wrapping up ground testing, which will include powering its systems on and off and conducting taxi tests, the B-21 is scheduled to make its first flight in 2023 before being transferred to Edwards Air Force Base some 20 miles northeast.
Many analysts had predicted that the B-21 would look like a slightly smaller B-2, and the long-awaited reveal didn't deviate much from those forecasts.
"In line with expectations, it looks a lot like a scaled down B-2, with a few modifications," said Richard Aboulafia, an aerospace analyst with AeroDynamic Advisory. "Most of the progress in aerospace over the last 35 years has been with subsystems, materials, and connectivity, so that makes sense.  It's interesting that the flying wing concept created in the 1940s is still relevant today."
200 US Marines deployed to "Nuclear" Aviano Air Base in Italy for Integrate Training with the F/A-18 Hornets alongside the F-16 Fighting Falcons
For more than seven years, Northrop could only hint at the aircraft's design in digital renderings and promotional images in which the B-21 was shown draped in a drop cloth to conceal its features — a depiction made famous in a commercial aired during the 2015 Super Bowl just months before Northrop beat out a Boeing-Lockheed Martin team to win the Long Range Strike Bomber contract.
During a roundtable with reporters before the rollout, Warden said Northrop had created "thousands" of design iterations in a digital environment before choosing the final design of the aircraft.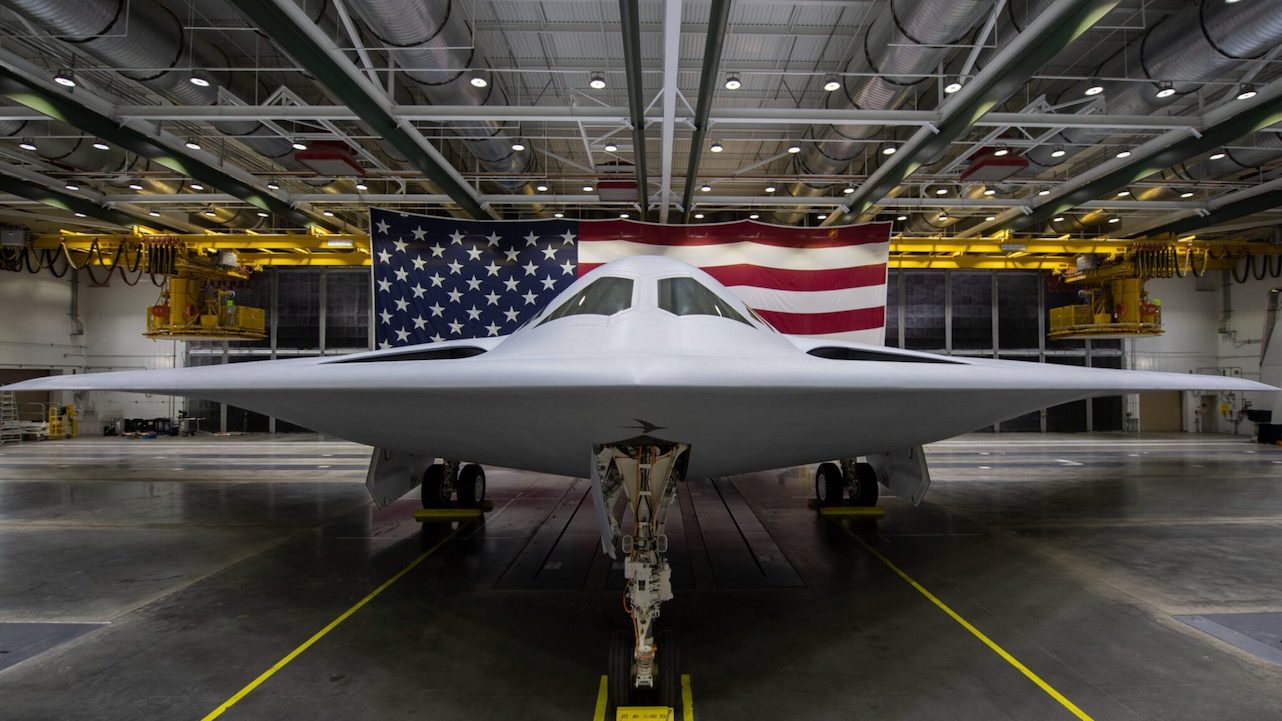 Almost all details about the B-21's performance remain highly guarded by the Pentagon, which wants to protect its technological advances from China and Russia.
Although the B-21 was designed to either be operated by a human or flown without a pilot in the cockpit, the Air Force has not laid out a plan or timeline to use the aircraft in an unmanned capacity, with Andrew Hunter, the service's top acquisition official, telling reporters today that fielding a crewed aircraft was the "primary focus."
Over the lifespan of the program, the Air Force plans on buying at least 100 B-21s at an average procurement unit cost of $692 million per plane in 2022 dollars. That sum includes a B-21 as well as training, spares and support equipment.
Pentagon's AeroGuard: the New UAS to "Catch in the Net" the Kamikaze Drones used in Ukraine War
The service begins funding low-rate initial production of the new bomber in fiscal 2023, spending $1.7 billion in procurement funding on top of $3.3 billion to carry on research and development activities. Air Force officials have declined to comment on how many B-21s that sum will buy.
As for the B-21 on display today, Warden said, "The next time you see this plane, it'll be in the air."
Breaking Defense's Lee Ferran contributed to this report.
---
MORE ON THIS TOPIC ON BREAKING DEFENSE
Ahead of B-21 Raider reveal, Northrop CEO touts tech you won't see
As classified B-21 bomber nears flight, secret facility sees more curious 'probing'
MORE ON THIS TOPIC ON GOSPA NEWS
WEAPONS LOBBY – 7. NATO-GATES International Military Intrigue in Turin. To Develop AI and Aerospace Technologies In DIANA Project
Undersecretary of Meloni's Italian Govt Eulogizes Azov Battalion's Ukraine NeoNazis. Far-Right is Really come Back in Rome?
Worse than Ukraine! In Yemen "Catastrophic" Hunger due to Saudi War: 400,000 Toddlers at "Risk of Death"
Goodbye Spaghetti & Mandolino… Welcome Weapons & Vaccines! Italian Govt Changed. Not the New World Order's Style!
Masonic Funds for Garibaldi's Expedition, British Legion with Times' Reporters & Mobsters Allied in Sicily
Fabio is Director and Editor of Gospa News; a Christian Information Journal.
Fabio Giuseppe Carlo Carisio, born on 24/2/1967 in Borgosesia, started working as a reporter when he was only 19 years old in the alpine area of Valsesia, Piedmont, his birth region in Italy. After studying literature and history at the Catholic University of the Sacred Heart in Milan, he became director of the local newspaper Notizia Oggi Vercelli and specialized in judicial reporting.
For about 15 years he is a correspondent from Northern Italy for the Italian newspapers Libero and Il Giornale, also writing important revelations on the Ustica massacre, a report on Freemasonry and organized crime.
With independent investigations, he collaborates with Carabinieri and Guardia di Finanza in important investigations that conclude with the arrest of Camorra entrepreneurs or corrupt politicians.
In July 2018 he found the counter-information web media Gospa News focused on geopolitics, terrorism, Middle East, and military intelligence.
His articles were published on many international media and website as SouthFront, Reseau International, Sputnik Italia, United Nation Association Westminster, Global Research, Kolozeg and more…
His investigations was quoted also by The Gateway Pundit, Tasnim and others
He worked for many years for the magazine Art & Wine as an art critic and curator.
ATTENTION READERS
We See The World From All Sides and Want YOU To Be Fully Informed
In fact, intentional disinformation is a disgraceful scourge in media today. So to assuage any possible errant incorrect information posted herein, we strongly encourage you to seek corroboration from other non-VT sources before forming an educated opinion.
About VT
-
Policies & Disclosures
-
Comment Policy
Due to the nature of uncensored content posted by VT's fully independent international writers, VT cannot guarantee absolute validity. All content is owned by the author exclusively. Expressed opinions are NOT necessarily the views of VT, other authors, affiliates, advertisers, sponsors, partners, or technicians. Some content may be satirical in nature. All images are the full responsibility of the article author and NOT VT.