On the cover image the powerful new Intercontinental Ballistic Missile Sarmat tested by Russia and the meeting in Washington between Zelensky and Biden
by Fabio Giuseppe Carlo Carisio
Two wars explained in brief.
In recent days a German court has sentenced a granny because she worked as a secretary in a Nazi concentration camp (details below). The judges showed no mercy either for her advanced age, 97 years old, or for her certainly complicit but marginal role compared to that of the military.
A shameful waste of time and public money given that in the space of a few years she will have to confront Divine Justice: the only incorruptible and capable of judging her heart to the end and, therefore, also her real crimes, her deliberate consent to evil or a mandatory subjection to it.
Precisely because we are talking about a typist who was then twenty years old and not an SS commander.
US, Germany and Italy alongside Ukraine in opposing UN anti-Nazi Resolution
This came just five days after the UN vote in which a group of 50 countries, including Germany, Italy and the US, rejected a resolution by Russia (voted by 120 other nations) against the promotion and glorification of Nazism. Curious right?
Yesterday US President Joe Biden did warmly welcome Ukrainian President Volodymyr Zelensky who presented himself before Congress in Washington telling the sinister lie that Ukrainian children, unfortunately educated to use rifles, asked as a Christmas present plus weapons to fight the Russians (all detailed news on Ukrainian war below).
Undersecretary of Meloni's Italian Govt Eulogizes Azov Battalion's Ukraine NeoNazis. Far-Right is Really come Back in Rome?
Zelensky, as anyone who studies fact and history and does not rely on the NATO-sponsored media knows, was often escorted by soldiers with the skull of the Nazi Third Reich on their helmets.
And just like an Italian undersecretary of the Meloni government (of the extreme right, but only with the poor) praised the neo-Nazis of the Azov Battalion which for years has been denounced for war crimes by Amnesty International,without any consequences from the Criminal Court International.
WAR CRIMES & DECEITS. ICC against Putin! Unpunished NATO Allies: Ukrainian Nazis as Bosnian Butcher, Jihadists General
They are the same paramilitaries part of the Ukrainian National Guard mostly captured by the troops of Russian President Vladimir Putin in Mariupol and then locked up in Donbass prisons bombed by the Ukrainian army when they began to confess their atrocious violations of human rights.
The White House has decided to give the young neo-Nazi in Kiev (Zelensky, if there were any doubts…) a supply of Patriot anti-missile systems and the Kremlin has replied that it has already supplied the Zircon ultrasonic missiles, which are too fast to be intercepted by the Patriots as confirmed by the devastating attack carried out in January 2020 on US Army bases in Iraq with similar Iranian missiles by the Islamic Revolution Guards in retaliation for the assassination of General Qasem Soleimani by a drone American (the latest madness of mad Donald Trump).
US Army Declassified Unseen Video on Al Asad Attack (Iraq). Terror's Strategy against Iran
Not only. While the Pentagon unveiled the new B-21 Raider bomber equipped with Stealth technology to reporters, the Russian Defense Ministry responded by announcing the forthcoming field use of the tremendous Sarmat, the most advanced intercontinental ballistic missile (ICBM) which can drop up to 10 nuclear bombs simultaneously programmed to hit different places.
Star Wars could soon become a reality because of a strategic country like Ukraine (one of the most important in the game of Risk too) whose existence many Westerners did not even know until a few months ago.
USAF is Now Ready for Atomic World War (AWW): Top Secret B-21 Raider Stealth Bomber for Nuke Weapons finally Revealed
Nor did they know of the approximately 5 thousand civilians exterminated in the genocide of the Ukrainian Nazis in the Donbass that began with the civil war after the 2014 NATO coup in Kiev.
All this reminds me of the movie 007 – Tomorrow Never Dies. When one of the richest men on earth almost succeeded in unleashing an atomic conflict by manipulating the perpetrators of sabotage and the media.
His name was Elliot Carver but we could rename him George Soros or Bill Gates (all detailed news on Ukrainian war below).
Fabio Giuseppe Carlo Carisio
© COPYRIGHT GOSPA NEWS
prohibition of reproduction without authorization 
follow Gospa News on Telegram
STOLTENBERG: NATO's Puppet for Gates-NWO in Pandemic as in Ukrainian War. Gavi Vaccines & Norges Bank Weapons Affairs on Yemen's Bombs
---
97-year-old former secretary at a Nazi death camp is convicted by German court
Extract by NBC News
A 97-year-old woman who worked as a secretary at a Nazi concentration camp was convicted by a German courtTuesday of being an accessory to the murder of more than 10,000 people.
In what could be the last trial of its kind, Irmgard Furchner — dubbed the "secretary of evil" by German media — was handed a two-year suspended sentence for helping the Stutthof concentration camp to function during World War II.
The trial, which was briefly delayed when Furchner went on the run by fleeing in a taxi, took place in juvenile court because she was 18 and 19 years old when she worked as a secretary for the camp's SS commander.
The Mystery on the Zelensky Photo with Guard Sporting Nazi Insignia which has Disappeared
Furchner was charged with "aiding those in a position of responsibility at the former Stutthof concentration camp with the systematic killing of those imprisoned there, due to her work as a shorthand typist/secretary in the Camp Commandant's Office between June 1943 and April 1945," according to a court press release.
Her defense lawyer had asked for her to be acquitted, arguing that while it was clear that thousands of people were killed in Stutthof, the evidence did not show beyond doubt that Furchner knew about the systematic killing at the concentration camp, according to a press release by the court. In Germany proof of intent is required for criminal liability.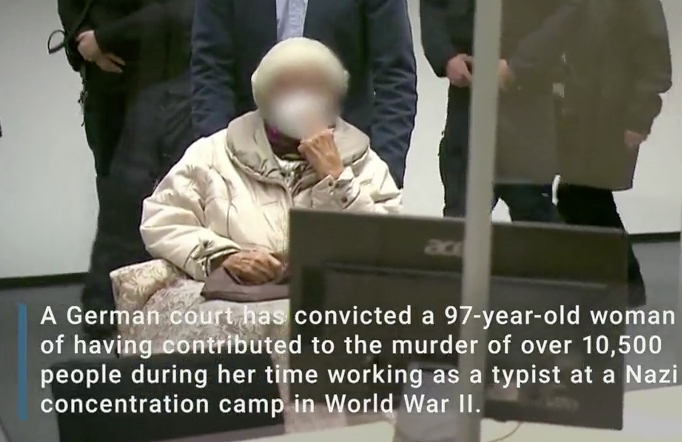 Earlier this month, Furchner broke her silence and delivered unexpected final remarks.
She said that she was sorry for what had happened, that she regretted that she had been at Stutthof at the time and that she had nothing left to say. Previously, Furchner had attended but remained silent throughout 14 months of court hearings.
---
Zelenskyy called the tens of billions of dollars in U.S. military assistance: including Patriot
Extract by Associated Press
Ukraine's Volodymyr Zelenskyy told cheering U.S. legislators during a defiant wartime visit to the nation's capital on Wednesday that against all odds his country still stands, thanking Americans for helping to fund the war effort with money that is "not charity," but an "investment" in global security and democracy.
The whirlwind stop in Washington — his first known trip outside his country since Russia invaded in February — was aimed at reinvigorating support for his country in the U.S. and around the world at a time when there is concern that allies are growing weary of the costly war and its disruption to global food and energy supplies.
Zelenskyy called the tens of billions of dollars in U.S. military and economic assistance provided over the past year vital to Ukraine's efforts to beat back Russia and appealed for even more in the future.
WEAPONS LOBBY – 8. American Armaments Sales in Europe Booming thanks to the War in Ukraine: "US Colony after Nato Coup"
"Your money is not charity," he sought to reassure both those in the room and those watching at home. "It's an investment in the global security and democracy that we handle in the most responsible way."
Just before his arrival, the U.S. announced a new $1.8 billion military aid package, including for the first time Patriot surface-to-air missiles. And Congress planned to vote this week on a fresh spending package that includes about $45 billion in additional emergency assistance to Ukraine.
The speech to Congress came after President Joe Biden hosted Zelenskyy in the Oval Office for strategy consultations, saying the U.S. and Ukraine would maintain their "united defense" as Russia wages a "brutal assault on Ukraine's right to exist as a nation." Biden pledged to help bring about a "just peace."
Nobel Peace Prize 2022 to Kiev NGO Created by Soros & US for Ukrainian Coup. Funded also by EU Commission which Bought Arms for Zelensky
Zelenskyy told Biden that he had wanted to visit sooner and his visit now demonstrates that the "situation is under control, because of your support."
The first naval vessel fitted with Zircon hypersonic cruise missiles is set to begin its routine combat duty early in January, Russian President Vladimir Putin has revealed. The president made the remarks on Wednesday during a meeting with the country's top defense officials.
---
Russia will continue to modernize nuclear arsenal
Extract by Russia Today
Russia's nuclear arsenal is the key guarantor of its sovereignty, President Vladimir Putin said on Wednesday, pledging that new weapons would soon enter into service. Putin made the statement in a speech during a meeting with the country's senior defense officials.
The nuclear triad comprises missiles fired from aircraft, submarines, and ground-based mobile launchers and silos.
PUTIN CELEBRATES THE VICTORY. "War in Ukraine against Nazis and NATO Plans". Nuclear Nightmare for NWO
"We will continue to maintain and improve the combat-readiness of our nuclear triad. This is the main guarantee for preserving our sovereignty and territorial integrity, strategic parity, and the general balance of power in the world,"Putin said.
The president added that "the share of modern types of weapons in [Russia's] strategic nuclear forces has exceeded 91% this year."
---
Putin provides details on Russia's hypersonic missiles
Extract by Russia Today
"In early January next year, the Admiral Gorshkov frigate will enter combat service with the latest, I repeat once again, not having any analogues in the world, sea-launched Zircon hypersonic missile systems," Putin stated.
The new hypersonic missiles, officially known as the 3M22 Zircon, have been actively tested over the past few years, after first being announced by Putin back in 2019. The Admiral Gorshkov, a modern missile frigate with Russia's Northern Fleet, has already performed multiple test launches of the new missiles.
Russian Anti-Satellite Missile Launch Into Space 'Dangerous' US Govt Says. Debris in ISS Station's Orbit: No Damages (update)
Still, little is known about the weapon, which is heavily shrouded in secrecy. The projectiles are reportedly able to reach speeds of at least 9 Mach – just over 11,000kph – while retaining the ability to maneuver, making them effectively impossible to intercept. The projectiles can cover a distance of at least 1,500km (932 miles), Igor Krokhmal, commander of the Admiral Gorshkov, revealed early this year.
---
Russia begins deployment of new state-of-the-art Sarmat ICBM
Extract by Russia Today
Russia's first new silo-based Sarmat intercontinental ballistic missiles (ICBM) will be deployed into service next year, Defense Minister Sergey Shoigu has said at a meeting of Russia's senior defense officials with President Vladimir Putin on Wednesday.
"Successful launches of the new heavy Sarmat missile system during state-run tests made it possible to begin work on its deployment,"Shoigu said.
Putin stated that the Sarmat silo-based intercontinental ballistic missile will enter service "in the nearest future." The missile can travel 18,000km (11,184 miles).
150 US Nuclear Weapons in Europe but Moscow Holds more Atomic Warheads in the World and the New Powerful Russian Sarmat ICBM
In total, some 22 new strategic nuclear missile launchers, including the silo-based Sarmat, as well as the Avangard and Yars systems, are set to be deployed to the country's Strategic Missile Forces (SMF) next year, the minister revealed.
Speaking with Krasnaya Zvezda (Red Star), the official newspaper of the Russian military, the head of Russia's SMF, General Sergey Karakaev, said the new missile boasts vastly larger capabilities than its predecessor.
"The missile system Sarmat has a wide range of capabilities for deploying various types of combat payloads and is based on principles that assure guaranteed penetration of any anti-ballistic missile (ABM) system, both now and in the future,"Karakaev told the newspaper last week.
---
The Rockefellers' Unpunished Holocausts. Atomic Bombs, Abortions, Depopulation with Manmade SARS-Cov-2 Pandemic and Gates' Vaccines
Russian Envoy to UN Says Nationalists in Ukraine Using Civilians as Human Shields
Mariupol Freed from the Zelensky's Nazis Satanists. Putin conquers the Military Target and Shows the True Face of the Kiev Partisans (video)
NATO's COUP IN UKRAINE: THE GENESIS – 2. Obama, Soros, MI6 & Kyiv Security Forum
Western Media continues to Ignore how Ukraine is Using NATO Weapons to Kill innocent Civilians in the Donbass
Kiev's Forces Shelled a Detention Center in Donbass because "the Nazi began to Testify on War Crimes". 53 Azov POWs Killed
Fabio is Director and Editor of Gospa News; a Christian Information Journal.
Fabio Giuseppe Carlo Carisio, born on 24/2/1967 in Borgosesia, started working as a reporter when he was only 19 years old in the alpine area of Valsesia, Piedmont, his birth region in Italy. After studying literature and history at the Catholic University of the Sacred Heart in Milan, he became director of the local newspaper Notizia Oggi Vercelli and specialized in judicial reporting.
For about 15 years he is a correspondent from Northern Italy for the Italian newspapers Libero and Il Giornale, also writing important revelations on the Ustica massacre, a report on Freemasonry and organized crime.
With independent investigations, he collaborates with Carabinieri and Guardia di Finanza in important investigations that conclude with the arrest of Camorra entrepreneurs or corrupt politicians.
In July 2018 he found the counter-information web media Gospa News focused on geopolitics, terrorism, Middle East, and military intelligence.
His articles were published on many international media and website as SouthFront, Reseau International, Sputnik Italia, United Nation Association Westminster, Global Research, Kolozeg and more…
His investigations was quoted also by The Gateway Pundit, Tasnim and others
He worked for many years for the magazine Art & Wine as an art critic and curator.
ATTENTION READERS
We See The World From All Sides and Want YOU To Be Fully Informed
In fact, intentional disinformation is a disgraceful scourge in media today. So to assuage any possible errant incorrect information posted herein, we strongly encourage you to seek corroboration from other non-VT sources before forming an educated opinion.
About VT
-
Policies & Disclosures
-
Comment Policy
Due to the nature of uncensored content posted by VT's fully independent international writers, VT cannot guarantee absolute validity. All content is owned by the author exclusively. Expressed opinions are NOT necessarily the views of VT, other authors, affiliates, advertisers, sponsors, partners, or technicians. Some content may be satirical in nature. All images are the full responsibility of the article author and NOT VT.